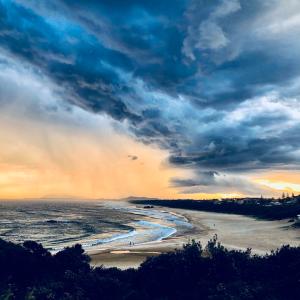 You've both been gone for eight  
years and I am turning seventy. I still  
miss what we never had. Even when you  
were here, I had become my own mother,  
my own father. It took some time but I  
can remember a beautiful moment in  
the eye of the storm that was our life.  
It was on a summer night in our small  
backyard around a fire as the peepers  
grew loud and we all stopped arguing  
for a long moment. While you were  
staring into the fire, I stared into you.  
In that oyster glow, I could part your  
anger and see past your wounds, all  
the way to the soft center you found  
in each other before I was born. Now  
I thread these images like beads of truth  
on a necklace I call you that strings from  
before I was here to who knows where.  
A Question to Walk With: Tell the story of an absence that pulls on you. It might be the loss of a loved one or the loss of a dream or the loss of an identity or home. What is it that you miss and where might you find such energy now in your life? 
This is from my book, The Half-Life of Angels.  
---
You can follow Mark on Facebook and Instagram.  
For more information about Mark's books and upcoming events, visit MarkNepo.com and ThreeIntentions.com.  
Information about his upcoming webinars, can be found at Live.MarkNepo.com. 
Sept 8-10: Mercy by the Sea, Madison, CT, Falling Down and Getting Up: The Practices That Keep Us Human. (web link) 
Sept 15-17: The Sophia Institute, Charleston, SC, Falling Down and Getting Up — Discovering your Inner Resilience and Strength. (web link) 
Nov 9-12: Santa Sabina Center, San Rafael, CA, Four-Day Retreat, Surviving Storms: Finding the Strength to Meet Adversity. (web link) 
Jan 7-13, 2024: Global Journeys, Guanacaste Costa Rica, Saying Yes to Life: The One Life We're Given — A Weeklong Retreat. (web link ) 
Feb 5-10, 2024: Modern Elder Academy, Baja, Mexico, Falling Down and Getting Up: Discovering Your Own Resilience and Strength (web link)