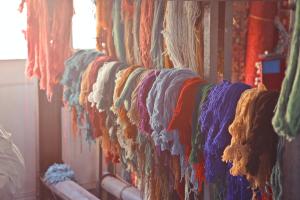 When your mask cracks, 
you can repair it or pull 
it apart and feel how you 
were born. 
When the story you've 
relied on rips, you can stitch 
it back together or let it all 
unravel and ask quietly and 
fervently, "Who am I now?" 
And when your worldview 
shows its flaw, you can 
criticize everyone not like 
you or pull all thought back 
to the beginning and start 
Anew. 
Everything in nature covers 
itself, only to crack, peel, 
and shed. 
We are the only ones who 
think we have arrived. 
A Question to Walk With: Describe one way that you have cracked or peeled for your life's experience and what such living has revealed to you. 
This is from my book of poems in progress, Suchness. 
You can follow Mark on Facebook and Instagram.  
For more information about Mark's books and upcoming events, visit MarkNepo.com and ThreeIntentions.com.  
Information about his upcoming webinars, can be found at Live.MarkNepo.com. 
This is the first official event for Mark Nepo's new book, Falling Down and Getting Up: Discovering Your Inner Resilience and Strength (St. Martin's Essentials, September 6, 2023). Joining Mark is his publisher and editor, Joel Fotinos. We hope you enjoy!  (web link) 
Sept 8-10: Mercy by the Sea, Madison, CT, Falling Down and Getting Up: The Practices That Keep Us Human. (web link) 
Sept 15-17: The Sophia Institute, Charleston, SC, Falling Down and Getting Up — Discovering your Inner Resilience and Strength. (web link) 
Nov 9-12: Santa Sabina Center, San Rafael, CA, Four-Day Retreat, Surviving Storms: Finding the Strength to Meet Adversity. (web link) 
Jan 7-13, 2024: Global Journeys, Guanacaste Costa Rica, Saying Yes to Life: The One Life We're Given — A Weeklong Retreat. (web link ) 
Feb 5-10, 2024: Modern Elder Academy, Baja, Mexico, Falling Down and Getting Up: Discovering Your Own Resilience and Strength (web link)