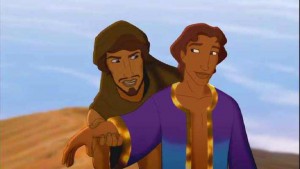 MANY CARTOONS have been based on Bible stories, but until recently, few if any of them were better than run-of-the-mill Saturday-morning fare. These films were made to babysit the kids, not to be enjoyed by the family as a whole.
Thankfully, that has begun to change in recent years. European animators gave us the thoughtful Testament series, as well as a feature-length film on the life of Jesus, The Miracle Maker. Closer to home, The Prince of Egypt brought lavish, Disney-style showmanship to the story of the Exodus, and now its producers have released a straight-to-video prequel, Joseph, King of Dreams.
The Prince of Egypt filled the big screen with special effects and showed how a nation was led out of bondage; Joseph, King of Dreams is made for the living room, and it deals with the more modest, down-to-earth tensions that exist within a single family. The songs are similarly scaled back; instead of big, splashy Broadway showtunes, they feel more personal.
King of Dreams
is, if anything, more overtly faith-oriented than
The Prince of Egypt
, though it takes some acceptable dramatic liberties with the biblical source material. The vocal cast includes Ben Affleck as Joseph,
Star Wars
' Mark Hamill as his jealous older brother Judah, and
The Little Mermaid
's Jodi Benson as Asenath, Joseph's Egyptian wife.
For my money, the best film about Joseph remains the 'Bible Collection' video starring Paul Mercurio and Ben Kingsley, but this animated film is reasonably entertaining, and it is probably more suitable for younger children. An opening title card hints this may be the first in a series of Bible videos from the DreamWorks factory. Here's hoping there are more.
— A version of this article was first published in BC Christian News.