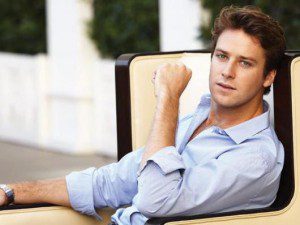 He first caught the eye of most moviegoers by playing the Winklevoss twins — both of them! — in The Social Network (2010). He has since delivered impressive supporting performances in J. Edgar (2011) and Mirror Mirror (2012). And now he's going to play one of the most iconic characters of all time in The Lone Ranger, which opens this week.
But before all that, Armie Hammer played Billy Graham in the independent biopic Billy: The Early Years (2008). I interviewed him shortly before the release of that film, and, to mark the release of his newest, biggest film to date, I have re-posted that interview here.
As it happens, Hammer was in the middle of shooting a film or TV show in Vancouver when we conducted that interview, but he had flown down to Nashville for the press junket. So, in theory, we could have had our chat in person, but instead, we had it over the phone — and when he found out where I was from, he laughed and said, "You guys love your trees!" (I quote from memory.) I must admit that that is one of the few lines from any interview I have ever done that still comes to mind fairly often.
Incidentally, because the topic of our interview was a movie made about Billy Graham, I have also re-posted an article or two that I wrote a while ago on movies made by Billy Graham. You can read the main article here, and a sidebar on the "top five" films produced by Graham's company, World Wide Pictures, here.
See also the blog posts I wrote as I was researching those articles, on the Billy Graham movies of the '50s, '60s, '70s, '80s, '90s and '00s, as well as this post on an earlier generation of Christian film critics and how they reviewed his films.