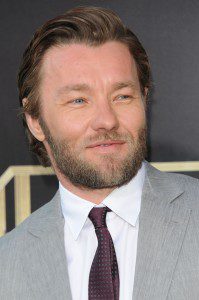 It looks like Ridley Scott's Moses movie might really be happening. The Hollywood Reporter says Joel Edgerton — who recently co-starred in Zero Dark Thirty and The Great Gatsby — is in talks to play the Pharaoh. As in most other big-screen versions of the Moses story, the Pharaoh of this film will be Ramesses II.
The film, called Exodus, already has Christian Bale attached to play Moses. The film will be shot in Spain, Morocco and England, and shooting could start as early as next month, so expect more casting news soon.
Meanwhile, in other casting news, the remake of Left Behind started filming last Friday, and the filmmakers have already had to replace one of their actors. Due to scheduling conflicts, Big Love alumnus Cassi Thomson has replaced Ashley Tisdale in the part of Chloe Steele, daughter of the airplane pilot played by Nicolas Cage.
The cast also includes American Idol winner Jordin Sparks as an airline passenger named Shasta, and it has been so long since I read the book (or saw the original movie) that I can't remember if there was anyone in there by that name.
Finally, Deadline reports that Paul Verhoeven has signed with a new agency — and along the way, the story focuses on his desire to make a movie about Jesus:
He has other projects, but continues to work toward getting up and running with a movie informed by his book Jesus Of Nazareth. Muse Productions' Chris Hanley, whose credits include American Psycho, has been funding development of a project that Verhoeven researched for two decades. Script is being written by Roger Avary, who shared the Academy Award for Best Original Script with Quentin Tarantino for Pulp Fiction.

Verhoeven has been obsessed with the enduring legacy of Jesus Christ, but he has never embraced the miracles and resurrection that are detailed in The New Testament. That includes the virgin birth and the resurrection. Verhoeven doesn't believe any of them happened. I wrote about Verhoeven's ambitions in spring 2011, and it has been rough sledding. Among the theories spun by Verhoeven in the book: Jesus might have been the product of his mother being raped by a Roman soldier, which Verhoeven said was commonplace at the time, and that Jesus was a radical prophet who performed exorcisms and was convinced he would find the kingdom of Heaven on earth, and did not know he would be sentenced to die on the cross by Pontius Pilate.

Despite all this, Verhoeven is fascinated by the power of the message Christ preached which has kept him first and foremost in the minds of Christians for 2000 years. Verhoeven feels too many take Jesus' sacrifice for our sins as a free pass to misbehave, because they think they don't have to take responsibility for their actions. He feels that the value of Christ's journey is the opportunity to emulate his life and the values he held dear, like forgiveness.

"If you look at the man, it's clear you have a person who was completely innovative in the field of ethics," Verhoeven told me. "My own passion for Jesus came when I started to realize that. It's not about miracles, it's about a new set of ethics, an openness towards the world, which was anathema in a Roman-dominated world. I believe he was crucified because they felt that politically, he was a dangerous person whose following was getting bigger and bigger. Jesus' ideals are about the utopia of human behavior, about how we should treat each other, how we should step into the shoes of our enemy."
Verhoeven has been talking about making a movie along these lines ever since he first attended one of the Jesus Seminar's gatherings in 1988 (one year after he directed RoboCop); when I interviewed Jesus Seminar member Marcus Borg in 1995, he told me that Verhoeven was thinking of casting Daniel Day-Lewis in the lead role.
So take this latest report with a grain of salt. It certainly isn't the first report of its kind, and it probably won't be the last.
What's more, Verhoeven is currently 73 years old and hasn't made a Hollywood movie in 13 years (though he has directed a couple of films in his native Holland during that time), so the odds of his actually pulling this project out of "development hell" and putting it up on the screen are increasingly slim, I think.
Still, if he ever does make the film, it should be fairly interesting.