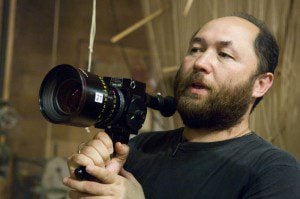 Seven months ago, we learned that MGM was developing a new adaptation of Ben-Hur: A Tale of the Christ, the classic Lew Wallace novel that had previously been adapted by the studio in 1925 and 1959. Now comes word that Timur Bekmambetov — the Kazakh director of Night Watch (2004), Wanted (2008) and Abraham Lincoln: Vampire Hunter (2012) — is in talks to direct the film, apparently because the studio feels he has "a strong grasp on the story's themes of revenge and redemption."
At first glance, Bekmambetov — who specializes in heavily stylized adaptations of comic books and horror-fantasy novels — would seem an odd fit for this story, given the ancient setting and the sincerity or earnestness with which earlier films have tackled the novel's themes. But this news sort of makes sense in light of the fact that studios have been trying for years now to imitate the success of 300 (2006), a heavily stylized adaptation of a graphic novel about the Persian invasion of Greece.
Consider: when Ridley Scott's Moses movie Exodus was first announced four years ago — long before Scott himself became involved with the film — it was reportedly conceived as "a '300'-like . . . visually stunning action piece". (I don't expect it to be all that 300-like now with Scott at the helm, but that was the film's original pitch.)
Similarly, two years ago it was reported that Scott Derrickson had teamed up with Temple Hill and Relativity Media to develop a film about David and Goliath, described at the time as "a period action movie made with contemporary sensibilities . . . that harkens to the spirit of films such as 300 and The Bourne Identity."
And those are just the Bible movies. Other ancient-set movies that have been filmed in a heavily stylized manner over the last few years include Immortals (2011), about the Greek hero Theseus, and the upcoming sequel 300: Rise of an Empire (2014).
So it was probably inevitable that a big-screen remake of Ben-Hur would at least flirt with a similar aesthetic. Still, it's hard to believe that one of the most famous Jesus stories ever — a property once shepherded by the great William Wyler, the most-nominated director in Oscar history — could soon be in the hands of a man who, just the other day, released a trailer for a film about killer squirrels.