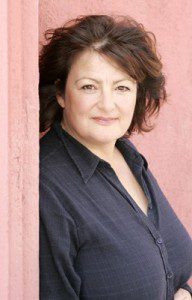 Antonia Bird passed away yesterday at the age of 54.
I don't know how many film buffs out there will recognize her name. The IMDb indicates that she had been working pretty steadily since 1985, but mostly in TV; her feature-film output was limited to four films she directed in the 1990s, and of those, I have only seen two: Priest (1994) and Ravenous (1999).
But Priest looms large in my mind as a film that I got to review at a particular crucial juncture in my life — and so, although my review is fairly critical of the film, I have posted it here in memory of its director.
A bit of background, if I may: In the summer of 1992, I had begun to contribute film reviews on a regular basis to the paper that became known as BC Christian News. Around that same time, I had also begun to seriously re-examine my beliefs about, well, just about everything — starting with sexuality, thanks to a special issue of Discover magazine that kind of blew my mind.
In 1993, when my self-examination grew especially intense, I began contributing to a privately-owned student newspaper at UBC. The following year, I became its Entertainment Editor. And then, in the spring of 1995, I was elected Culture Editor at the rival, "official" newspaper that was funded by student fees and governed by a board elected by the student body.
This second newspaper, as it happens, was one that I had avoided writing for when I first arrived on campus several years earlier, because I knew that the environment there would challenge a lot of my core beliefs, including my beliefs about sexuality. So the fact that I was now one of the editors there, at a time when I was seriously re-examining those beliefs, was not insignificant.
And yet I was also contributing to the Christian community newspaper. I wanted very much to build up my faith, and to do what I could to build up the faith of my fellow Christians, as authentically as I could. And now that I was getting invited to press screenings and interviewing filmmakers on a regular basis, I also wanted to do what I could to beef up the quality of Christian film coverage, at least in my small corner of the world. (And as this was in the early, early days of the internet — BC Christian News had no website, and I was probably still faxing my articles to them at the time — my corner of the world seemed very small and isolated indeed.)
So, when Priest — a film about a gay Catholic parish priest — came to local theatres in April or May of 1995, I knew I wanted to cover it for the Christian newspaper. (The student newspapers were on hiatus then.) I was critical of the film, but I didn't want to write a knee-jerk reactionary review, either. The result, for better or worse, is what you see in the archives of this blog.
And I have to say, it would have been very easy for my editor, Flyn Ritchie, to kill the review. But he didn't, and I totally give him props for that. It is, indeed, partly because he trusted me with material like this, and allowed me to explore some of the more complicated corners of the faith — through film reviews and news stories and various other kinds of articles — that I am the Christian I am today.
Incidentally, the actors who play the two priests at the heart of this film — Linus Roache and Tom Wilkinson — were reunited on the big screen eleven years later, sort of, in Batman Begins (2005), where Roache played Bruce Wayne's father and Wilkinson played a Gotham City gangster.
And it seems Bird had a talent for pairing actors who would go on to reunite in Batman movies; her second film, Mad Love (1995), starred Chris O'Donnell and Drew Barrymore just one month before they both appeared in Batman Forever (1995), he as Robin and she as one half of the duo Sugar and Spice.
Another actor from Priest who went on to bigger and better things was Robert Carlyle. Soon after playing the gay priest's lover, he went on to play the brawling alcoholic Begbie in Trainspotting (1996), the leader of the small band of amateur male strippers in The Full Monty (1997), and one of the main villains in the James Bond film The World Is Not Enough (1999); he also co-starred with Kiefer Sutherland in the Christian World War II movie To End All Wars (2001).
Since I was a relatively new critic at the time, straddling worlds that were very different both culturally and politically, I remember checking to see how some of the more liberally-minded critics tackled Priest — and to my relief, I saw that at least some of them thought the film was a bit over-the-top, too. My favorite line — a metaphor so vivid and succinct that I wished I could have come up with it — came from Mark Harris of The Georgia Straight: "Liberal tub-thumping always rings hollow."
Alas, Harris passed away earlier this year. And the theatre where we saw the film was probably one of the ones that shut down last year. (If not, then it was one of the ones that shut down even earlier.) And the newspaper for which I wrote the review shut down the year before that. And now Bird herself has passed into memory.
And so it goes. Rest in peace, Antonia.