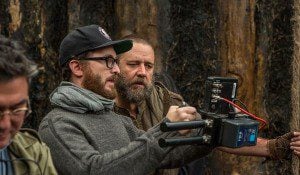 There are now less than ten weeks to go before Darren Aronofsky's Noah comes to a theatre near you. And to mark the occasion, Hollywood Jesus posted an item with quotes from what seem to be new interviews with Aronofsky himself as well as co-writer Ari Handel and producers Mary Parent and Cale Boyter.
In the first quote, Handel plays the "accuracy" card, and says that he and Aronofsky consulted experts while "tweaking" and developing the script:

"All the time there would be tweaking of it [the story] and looking at language and meaning to try and make sure that people who had thought about this text for much longer than we had, were helping direct us in ways of getting it and trying to make it as accurate as we could and in line. And while we were still trying to make a dramatization, making it especially in line with the scenes and the morals and the spiritual essence of it[.]"
Handel also explains why he and Aronofsky added the character of Tubal-Cain (who happens to be biblical, in name at least, though the character was originally written as a non-biblical character named Akkad) to the script:
"On a movie-telling level you need antagonism to have drama so that was necessary. And on a level of the text, the story is about the wickedness of man and that's why this is happening. We wanted to personify that in a figure, so we created a figure to personify that wickedness into a point that you could see it and relate to it."
As for what the film is about, Aronofsky sums it up thusly:
"I think it's about hope. At the core of the film we're making is this family drama. It's about a mother and a father who are living in a very difficult time who have to navigate their children through that and hopefully find a better place and a better beginning for them. So there's lots of things about it. There's faith and there's hope and there's also just being a good parent and being a loving parent."
For her part, producer Mary Parent offers a brief rationale for the fact that the animals go into hibernation when they are on the Ark, while associate producer Cale Boyter — described as "a believer", though the HJ article doesn't get into specifics — talks about the potential for "connecting" mainstream media with "people of faith":
"I thought a lot about how does mainstream Hollywood connect with people of faith? Because people of faith in middle America love movies but they kind of hate Hollywood. It's always been kind of a thing that we've been battling against. I talked a little [bit] about the enormous opportunity of having something like Noah with the talent involved to kind of do something biblical is amazing…. When I read their script in 2009 it blew me away. The message of mercy and the power of God's love is dramatized in this movie beautifully. And I had never thought about Noah's story that way."
Incidentally, Aronofsky is still tweeting pictures from the film's post-production. His latest photo, posted just a few hours ago, reveals that the film's score will mark the first collaboration between composer Clint Mansell and the Kronos Quartet since Aronosky's earlier film The Fountain (2006). So there's a good chance the score for Noah will sound very different from the music in the trailers, indeed!
back with @kronosquartet and @iamclintmansell, 1st time since #thefountain, scoring #noah, march 28 nears!: pic.twitter.com/zs929uX0P0

— darren aronofsky (@DarrenAronofsky) January 20, 2014