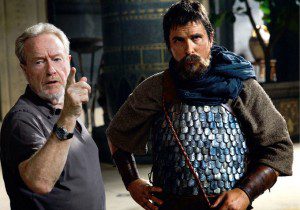 Many blogs were quick to note The Hollywood Reporter's story today on the making of Noah. Few if any, however, noted a sidebar to the Reporter story which gave a nod to the other two Bible movies coming out this year, i.e. Son of God and Ridley Scott's Exodus.
The sidebar doesn't offer much new info about either of those films, but it does include this bit about Exodus: "Details are scarce, but sources tell THR that Scott, an avowed agnostic, has chosen an unconventional depiction of God in the film. If so, it faces the same challenge in wooing religious audiences as Noah does."
That's a pretty vague statement, but it gives you a sense of the kind of buzz this film is getting within the industry. And I can't say it surprises me at all, as Scott has always seemed like an odd fit for the Moses story — mainly because, beyond his general agnosticism, he has also tended to be skeptical wherever quests for promised lands are concerned. See, e.g., his depiction of Christopher Columbus in 1492: Conquest of Paradise (1992), or his depiction of the Crusaders in Kingdom of Heaven (2005), or even his space explorers in Prometheus (2012). The protagonists in these films all go on quests or pilgrimages of some sort and come out disappointed in the end.
Then again, perhaps Scott's sensibilities aren't that far off the mark. After all, the biblical Moses is frequently frustrated by his stiff-necked brethren, and he ends up dying before the Israelites enter the Promised Land. So there's certainly room to play with the idea that Moses, himself, was a disappointed quester of some sort.
The real question is what Scott intends to do with the character (for lack of a better word) of God. The film will still allow for signs and wonders, apparently — last year he told Empire magazine the film will "have to" include the parting of the Red Sea — but beyond that, there are all sorts of ways Scott could shape the material.
As ever, we'll just have to wait until December 12 — exactly ten months from today — to see how, exactly, this movie turns out. And while I can't quite say I'm "intrigued" by what Scott is up to, I'm certainly curious. Stay tuned and all that.
Update: Coincidentally, a reader just tipped me off to this article on Exodus that just appeared in the April issue of Total Film, in which Joel Edgerton, who plays the Pharaoh Rameses, makes a somewhat enigmatic comment:
"The scale of it is epic," he muses, "but within that, Ridley and [screenwriter] Steve Zaillian really kind of draw into a sense of reality and find touchstones for how there's a plausibility to the plagues and these grand things, so there's still a sense of magic and awe, but also potentially within that mystery there's something to hold onto."
Make of that what you will, and check out the rest of the article below.