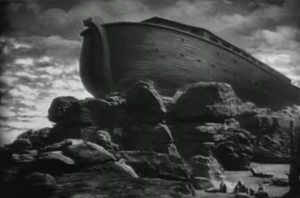 My article on the portrayal of Noah in film is now up at CT Movies.
It looks at how the story of the Flood has been told — and, in a couple cases, modernized — in Noah's Ark (1928), Green Pastures (1936), The Bible: In the Beginning… (1966), Genesis: The Creation and the Flood (1994), Testament: The Bible in Animation (1996), Noah (1998), Noah's Ark (1999), Evan Almighty (2007) and, of course, Darren Aronofsky's Noah (2014).
It's not an exhaustive list by any means — I would have liked to include a note about the three short Noah-themed Disney cartoons produced between 1933 and 1999, in particular — but I think I was pushing my word limit as it was.