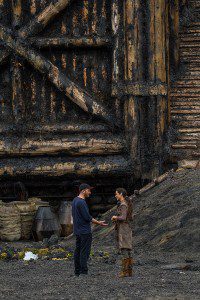 The other day, it was reported that three Muslim countries had banned Darren Aronofsky's Noah — not necessarily because of its content, but simply because it offers a visual depiction of one of "the prophets". But now it turns out that reports of the film being censored in at least one of those countries might be premature.
Gulf News says the film has not yet been banned in the United Arab Emirates, and it quotes Juma Obeid Al Leem, a representative of the country's National Media Council, to the effect that "We haven't decided whether it's OK or not. We will decide after watching the full movie next week and after a report is made."
At this point, very few people have seen the finished film. As of a week ago, the filmmakers were still putting the final touches to the sound mix, and the film has not yet been rated by any of the classification boards in Canada, the United States or Great Britain. However, the film will have its world premiere in Mexico City just two days from now, so if it isn't finished yet, it should be very very soon!
In other news, The Wrap reports that one of the visual-effects companies that worked on Noah lost a lot of money on that film because it took longer to create the effects than they anticipated — but the company's co-founder says the studio was "extremely supportive", and the financial loss has been covered by the profits the company made on other projects such as Game of Thrones, The Grand Budapest Hotel and The Secret Life of Walter Mitty.
Stories like these are not uncommon. One famous visual-effects company, Rhythm & Hues, went bankrupt right around the time it won an Oscar for its work on Life of Pi. The story of that bankruptcy — and the industry practices that led to it — is covered in the short documentary Life after Pi, recently released on YouTube:
Finally, Darren Aronofsky has tweeted a new (and rather haunting) image from his Noah-themed art show, which I have added to the collection of images here.
Oh, one extra note, though it doesn't concern Noah directly:
Remember how it was reported a few weeks back that Noah is being converted to 3D for certain foreign territories only? The Hollywood Reporter notes today that the recent RoboCop reboot — which, incidentally, was going to be directed by Aronofsky at one point! — was converted to 3D for the Chinese market only, and apparently the extra dimension is paying off there now.
We can expect to see more of this sort of thing in the future. And it should serve as a reminder that, for all the noise some people have made about the importance of the local Christian demographic to certain films, the studios really do make big-budget films with the global audience in mind, not just North Americans.
(Since we've already mentioned Life of Pi, it provides a handy case in point: that film earned about $125 million in North America, which is pretty good for a film with no major stars, but it earned another $484 million overseas for a global total of $609 million. That's something of an extreme case — it's not uncommon for blockbusters to make double or even triple overseas what they make in North America, but almost quadruple is extremely rare — but still, it makes the point.)