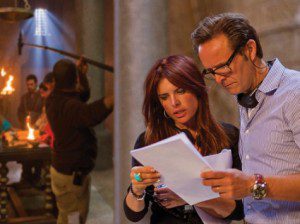 Apparently the new Ben-Hur is such a big, big deal that it requires the talents of nearly everyone who has worked on a Bible epic in recent months.
Two days ago, it was revealed that the studio behind Noah was going to co-produce this film, which MGM has been developing for over a year now.
And today, it was announced that Son of God producers Mark Burnett and Roma Downey have come on board the project too.
Is there a way to get any of the Exodus: Gods and Kings people involved, I wonder?
Even better, the film now has a release date — February 26, 2016 — according to both Deadline (which calls Burnett and Downey "Jesus Whisperers", indicating perhaps that they have been brought on board not so much for their creative input as for their ability to sell films like this to the "faith-based" audience) and Variety.
According to The Wrap, the studios issued the following statement about the film:
"The film returns to the heart of Lew Wallace's epic novel focusing on the nature of faith," the studios explained. "The story follows a falsely accused nobleman who survives years of slavery to take vengeance on his best friend who betrayed him. Both must come to choose between retribution or forgiveness."
Meanwhile, Deadline has the following quotes from the studio chiefs:
"We are thrilled to have Mark and Roma join the production team to bring such an indelible classic story to the big screen," said MGM's Gary Barber. "Their unrivaled passion, creativity and success in the faith based content space, will be a huge asset to the film and we look forward to working together."

"A timeless film of this scale and scope requires an incredibly dedicated team of filmmakers and the opportunity to have visionary talents like Mark and Roma be a part of the making of the film, and knowing their incredible dedication to their own faith, made them the ideal partners to help bring this story authentically to life," said Rob Moore, Vice Chairman Paramount Pictures.
The film is still set to be directed by Timur Bekmambetov (Night Watch, Wanted, Abraham Lincoln: Vampire Hunter) from a script by Keith R. Clarke (The Way Back) and Oscar winner John Ridley (Three Kings, Red Tails, 12 Years a Slave).
This also marks the fourth (or fifth) project from Burnett and Downey that takes place in Roman-occupied Judea. In addition to the TV series The Bible (which was repackaged as the feature film Son of God), they are also working on the TV shows The Dovekeepers and A.D., both of which are scheduled to air in 2015.
Update: The Hollywood Reporter has this statement from Burnett and Downey:
"What an honor it will be to help bring this epic film back to the big screen" said Burnett and Downey. "When Gary Barber allowed us to read John Ridley's amazing script, we immediately knew we had to join this team. We are thrilled to be able work with Timur, Sean, John and the entire MGM and Paramount teams. General Lew Wallace's Ben-Hur is one of the most important Christian works of fiction ever written and this script is astounding. It will be the most anticipated movie release of 2016."
Note, incidentally, that the film's release date falls right between the anniversaries for The Passion of the Christ (February 25, 2004) and Son of God (February 28, 2014). But instead of coming out at the beginning of Western Lent, as those films did, this film will come out in the middle of Lent, only four weeks before Easter.