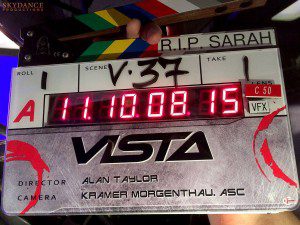 Filming has commenced on Terminator: Genesis. Skydance Productions posted the attached image of the film's first slate to their Facebook page today.
Speaking of which, there have been some casting updates since I last wrote about this film a few weeks ago.
Sandrine Holt, who has a recurring role on House of Cards, is set to play someone named Detective Cheung, "who arrests Kyle and Sarah when they arrive in 2017."
In the timeline of the first four films, Kyle Reese died in 1984 and Sarah Connor died in the late 1990s, and everyone who traveled through time did so by going to the past. So it looks like this film will do something that has so far happened only in the TV series The Sarah Connor Chronicles, and pluck some of its characters out of their existing continuity and have them travel into the future.
This report also seems to confirm an earlier report which indicated that at least one of the timelines in this film will take place in a world where the war with the machines has not yet happened. (In the timeline of the first two films, the war began in 1995, and in the timeline of the third and fourth films, it began in 2004.)
Meanwhile, in other casting news…
Dayo Okeniyi, who played Thresh in The Hunger Games, has been cast as Danny Dyson, who was briefly seen in the second film as a boy. In the new film, he will be all grown up, "a Steve Jobs genius who figures heavily into the conclusion of the film. . . . The young man holds the key to technology development that makes Skynet possible."
Byung-hun Lee, who played Storm Shadow in the G.I. Joe movies, will also be in the film. There are no details about his character yet, but "it promises to be a doozy."
Michael Gladis, of Mad Men, has also joined the cast in an unspecified role.
It has been well-known for a while that the producers want this new film to be the first part of a trilogy that will wrap up the franchise. Now Deadline reports that they are planning to make the next two films "back to back over nine months." But presumably whether they go ahead with that will depend on whether this first film is a hit.