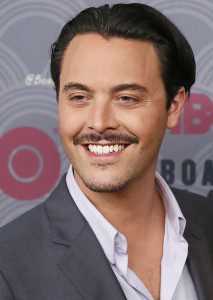 Last month it was rumoured that Tom Hiddleston was being courted for the upcoming remake of Ben-Hur, but those rumours were scuttled today when it was announced that Hiddleston is going to star in the King Kong spin-off Skull Island instead. No matter, the makers of Ben-Hur have an announcement of their own to make: namely, they have cast Boardwalk Empire co-star Jack Huston in the title role made famous by Charlton Heston in the 1959 film.
Huston, as it happens, is the grandson of legendary filmmaker John Huston, who played both Noah and the voice of God in
The Bible: In the Beginning…
(1966), which he also directed. The younger Huston played Flavius in the 2004 TV-movie remake of
Spartacus
— it was based on the same Howard Fast novel that the 1960 Kirk Douglas film was based on — and he played Lord Alfred in Al Pacino's
Wilde Salomé
(2011). So he's had a
bit
of experience with movies set in the ancient Roman empire. Nothing quite on
this
scale, though.