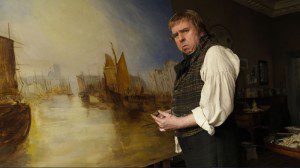 Mr. Turner (UK/France/Germany) — Oct 8 @ 1pm @ Vancouver Playhouse
Mike Leigh is known for his kitchen-sink realism and his improvisational approach to screenwriting: he hires the actors, gets them to know their characters in detail, and then he collaborates with them on the story, or at least on the development of individual scenes. But once in a rare while he decides to tackle an actual historical subject — and the two films he has made in that vein so far both concern artists who lived and worked in the 19th century. Fifteen years ago, he directed Topsy-Turvy, which followed the creation of the Gilbert & Sullivan musical The Mikado in 1885, and now he has made Mr. Turner, which looks at the last few decades in the life of J.M.W. Turner (Leigh veteran Timothy Spall), a British painter who died in 1851. Leigh's attention to detail is in fine form here, and it fills every aspect of the film's production: the sets and costumes feel authentically pre-Victorian, some of the landscape shots have the beauty and simplicity of a classic painting, the dialogue feels very precise and true to its era ("I beseech you, brook your ire!"), and the actors all give engaging performances that hint at lives beyond what we see onscreen. In addition to Turner's art — which grew increasingly abstract as he got older — the film also looks at his personal life, including his relationships with a bitter old widow who bore him two children, a more cheerful and optimistic widow who becomes his mistress late in life, and a middle-aged servant with bad skin who lets Turner use her from time to time. I regret to say that I don't know much about art history, so I'm sure I missed lots of references in the scenes where Turner hobnobs with his fellow artists, but I did catch a bit about the unhappy marriage between the hilariously full-of-himself art critic John Ruskin (Joshua McGuire) and his young wife (Eleanor Yates), which is the subject of the upcoming film Effie Gray. A scene in which Turner encounters a camera for the first time is also quite amusing, partly for the way it captures a point in time when art and science were combining to form new kinds of creative expression, and also because Spall played a portrait photographer in one of Leigh's best-known films, Secrets & Lies. Mr. Turner isn't my favorite Leigh film by any stretch, but it's a solid addition to the canon. If I have any quibbles at all, it is that the stillness of some of the landscape shots — the stillness that allows these moving images to seem like paintings — seems to be at odds with Turner's own work, which various characters remind us was renowned at the time for capturing the chaos and turbulence of nature. Oh, and I would not be surprised at all if someone made a supercut featuring all of Turner's grunts. He does a lot of that in this film.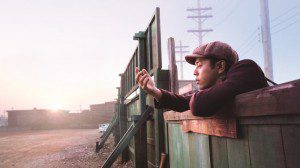 The Vancouver Asahi (Japan/Canada) — Oct 9 @ 3:30pm @ Centre for the Arts / Oct 10 @ 1pm @ Vancouver Playhouse
How many non-Canadian films have gone out of their way to recreate the Vancouver of the past? (Heck, how many Canadian films have done that?) I can think of only one: Clint Eastwood's Changeling, which is set mostly in 1920s Los Angeles but includes a brief detour to Vancouver after the kidnapper flees across the border. That was nothing, however, compared to The Vancouver Asahi, which was filmed in Japan but takes place entirely in 1930s Vancouver. I don't know Vancouver's former Japantown well enough to know how accurately it has been reconstructed here, but the filmmakers clearly spared no expense in trying to capture the look and feel of the city as it was 80 years ago, and the story — about a Japanese-Canadian baseball team that became a source of ethnic pride until World War II came along and all of the players were sent to internment camps — is certainly one that deserves to be told. Alas, the actual telling of that story is pretty generic sports-movie historical-uplift stuff: the team struggles, it loses some games, the players feel like giving up, somebody inspires them to keep trying, they do better, etc. I could have handled more exploration of the tensions within the Japanese community; a town-hall meeting, in which people argue over how much they should try to assimilate into Canadian society, was particularly interesting. (It ends with a woman reprimanding a man for apologizing too much: "That's so Japanese!" she says. It's also very Canadian. Perhaps he was more assimilated than he thought!) Also, considering Vancouver has one of the largest Chinatowns in North America, I would have liked to see some interaction between the Japanese characters and their Chinese neighbours: both of these communities had to deal with the racism of white Canadians, so they had that much in common at least, but this story takes place at a time when Japan had invaded China, so presumably there would have been some tensions between these two communities as well. The Vancouver Asahi is an okay film, but as is often the case with movies of this sort, I wonder if I might have learned more by watching a documentary.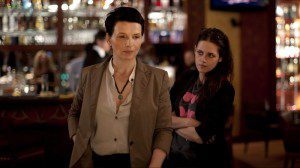 Clouds of Sils Maria
(France/Germany/Switzerland)
I don't remember caring much for the first couple of Olivier Assayas films that I saw way back when, but over the past six years I have been deeply moved by Summer Hours and greatly impressed by Carlos, and I even liked Something in the Air, which I gather had more of a mixed reception. So I went to his newest film in a receptive mode, and sure enough, it's an enjoyable, even entertaining look at the relationship between a middle-aged actress named Maria Enders (Juliette Binoche) and her considerably younger personal assistant (Kristen Stewart). Maria, who kicked off her career at the age of 18 by playing the younger, manipulative lover in a same-sex relationship, is going through something of a midlife crisis now, and the fact that she has been asked to play the older lover in a revival of that play isn't helping. The younger role, for its part, has gone to a teenaged tabloid magnet (Chloë Grace Moretz) who recently made a big-budget sci-fi film and wants to do something artier now, and it falls to the personal assistant to explain to Maria just who this actress is and why she and her films might be better than their reputation. Binoche gives possibly the most naturalistic performance of any actor I've seen at this year's festival, balancing her character's serious anxieties with a healthy sense of the absurd. It's also fun to see Stewart, she of the Twilight films, come to the defense of the younger actress's cheesy movie while Maria laughs and laughs at the silliness of it all — not least because, at the back of your mind, you can't help remembering that Binoche herself just had a part in Godzilla. The titular clouds, which snake their way through a valley in the Swiss Alps, are beautifully photographed, too. I'm beginning to wonder if I should go back and give those earlier Assayas films a second chance.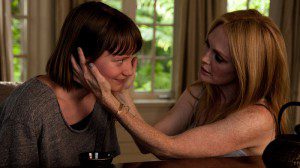 Maps of the Stars (Canada/France/Germany)
As it happens, there was another film at this year's festival that featured: a middle-aged actress who gets stressed out over stunt casting; a personal assistant who works for that actress; an obnoxious teenaged actor whose life is fodder for the tabloids; and a person who acts in a cheesy science-fiction movie (which in these arthouse films always look like really cheap versions of the real thing). It even featured one of the Twilight stars! But because this film was directed by David Cronenberg, it's a lot kinkier — with themes of incest, a somewhat graphic depiction of a threesome, and so on — and it ultimately gets rather violent. Havana Segrand (Julianne Moore) is an actress in dire need of a career boost when the opportunity to star in a horror remake comes her way; the problem is, the part she would play was originally played by her abusive mother, visions of whom haunt her at the worst possible moments. Meanwhile, her personal assistant (Mia Wasikowska, who played Moore's daughter in The Kids Are All Right) has disturbing family issues of her own to deal with. John Cusack, who has popped up in better Hollywood satires such as Robert Altman's The Player, plays a pop therapist whose son (Evan Bird) is a bratty teenaged movie star trying to resuscitate his own career, and Twilight's Robert Pattinson shows up as a struggling actor who pays the bills by driving a limousine. Not really my cup of tea, and it didn't help that the sound in the Vancouver Playhouse was so bad that neither I nor the people I spoke to afterwards could catch all the dialogue. I think Glenn Kenny may have summed it up best when he said that this is "a sick movie made by sick people about sick people for sick people" — though where he meant that as a compliment, I didn't see the point of it all.