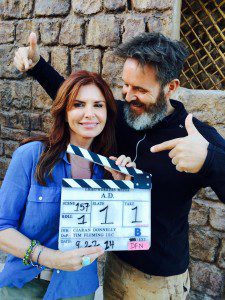 1. It's been a busy last couple of weeks for Mark Burnett and Roma Downey. Two Mondays ago, they joined forces with MGM to revive the United Artists brand, but they were unavailable for comment at the time because — as we now know from the picture to the right, which was posted to the brand-new A.D. Twitter account yesterday — that was the very same day on which they started shooting the first season of A.D., their follow-up to The Bible, in Morocco.
Burnett did eventually grant a phone interview to Variety to discuss the MGM deal. But he didn't say anything much about A.D. and, bizarrely, the series does not seem to have an IMDb page yet, so I have no idea who has actually been cast in it or which characters it will focus on. But I'll keep an eye open for such information and pass it along when I find it.
Meanwhile, last Monday, Roma Downey posted a video to YouTube marking the start of principal photography on their other TV series set in first-century Judea, The Dovekeepers. The miniseries is currently shooting in Malta, and the video featured Downey and two of the series' co-stars, Rachel Brosnahan and Cote De Pablo.
2. People are still talking about Darren Aronofsky's Noah, and the religio-political ramifications thereof. The Hollywood Reporter ran a story last week on Michael Feldman, a former chief of staff for Al Gore who now helps filmmakers to promote politically controversial projects. One of the films he has worked on is Noah:
How can studios successfully manage that larger conversation around a film?

Noah is a great example of a film where the "controversy" could have overwhelmed it. But instead, Paramount did a remarkable job helping manage that conversation and keeping the film approachable to general audiences. Instead of rejecting it, people went to see it, and the strength of the film led to really strong performance at the box office.
Meanwhile, Aronofsky took part in an event at the New Museum in New York City last Tuesday, where he was proclaimed their Stuart Regen Visionary. At that event, he noted that images from his film have begun to turn up in some unlikely places:
I just found out ISIS in their newsletter is using imagery from my movie to make a point — which is hilarious because we were banned from so many Muslim countries! If they actually knew the source of the material!
Aronofsky also commented on the battle over "literalism" that accompanied Noah:
There is more power in accepting these old books as mythology, … instead of fighting over, did it really happen? We were trying to recapture these stories away from true believers and say they are our stories, just how you look at Ulysses and The Odyssey; they belong to the world. I tried as hard as possible to stay away from literalism. … Whether it's ISIS or the heartland here, … let's leave that behind and look at the lessons here, but we don't have to live exactly by the word.
Aronofsky's comment that he "tried as hard as possible to stay away from literalism" is interesting, in light of his comment when I interviewed him that he tried to be as true to the text as possible. But it doesn't actually contradict what he said before.
Here is the full quote from our interview:
Within our tradition, as being Jews, a long tradition of thousands of years of people writing commentary on it, where literalism is a different school and people actually look at it for clues and try to apply it to lives now, and to your present, and so for us in our tradition, there isn't anything we're doing that's sort of out of line or out of sync, but within that, I think you don't want to ever contradict what's in there.

In all the midrash tradition, the text is what the text is. The text exists and is truth and it is the word and it is the final authority, but how you decide to sort of interpret it, you have that possibility to open it up and open up your imagination to be inspired it.
So Aronofsky didn't want to "contradict" the text but he did want to be "inspired" by it and go beyond it — and that dovetails perfectly with what I have said before, about how the obsession some people have with "biblical accuracy" essentially amounts to a desire to minimize the artistry or creativity of a film. I don't want to see those things minimized, and I'm glad filmmakers like Aronofsky don't either.
3. Tom Felton has posted a few new behind-the-scenes photos from Clavius — the Romans-investigating-the-Resurrection movie which, like The Dovekeepers, has been shooting in Malta for the past several weeks — to his Instagram account. Enjoy: