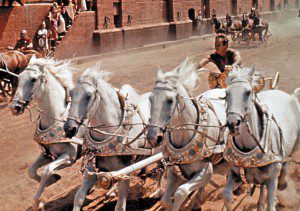 The Charlton Heston version of Ben-Hur was filmed partly at the Cinecitta Studios in Rome, so it comes as no surprise that the new version will be filmed there, too, as Variety reports today. The four-month shoot is set to begin in February.
More interesting is the fact that the new film will also be shot partly in Matera, the Italian town that was thought to be "a shocking example of European poverty" back when Pier Paolo Pasolini shot The Gospel According to St Matthew there in the 1960s, but has since become something of a tourist spot — not to mention a location for several other Bible movies.
Films shot there include Bruce Beresford's King David, Mel Gibson's The Passion of the Christ, Catherine Hardwicke's The Nativity Story and Cyrus Nowrasteh's Christ the Lord: Out of Egypt, which is also currently shooting at Cinecitta in Rome.