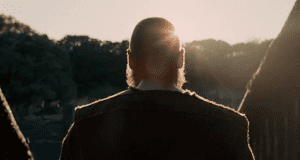 Happy Monday. Here's a round-up of recent Bible-movie news (with pictures!) to help you start the week.
1. Darren Aronofsky, whose films have received serious Oscar buzz more often than not (Requiem for a Dream, The Wrestler and Black Swan were all nominated for their acting, among other things, and the last of those films actually won), is still doing what he can to keep Noah on the Academy's mind.
Last week he spoke to Variety about the excellent work that cinematographer Matthew Libatique, production designer Mark Friedberg, editor Andrew Weisblum, visual effects supervisor Dan Schrecker, composer Clint Mansell and, of course, Patti Smith contributed to the film; and tonight, Aronofsky and Smith will be hosting a screening of the film at the Museum of the Moving Image in New York.
One of the things Aronofsky tells Variety is that the creation sequence in Noah was one of his main reasons for wanting to make the film: "It sums up the film in a lot of ways. Noah explains why he turned his back on creation: There's beauty and also what man has done to it." And, as chance would have it, today the website Movie Barcode posted a barcode version of this very sequence (they already posted a barcode featuring the entire movie, which I included in this post back in August):

2. We haven't heard a lot about the film version of Christ the Lord: Out of Egypt since its release date was announced way back in July. But rest assured, cameras are currently rolling. My fellow Patheos bloggers Tony Jones and Christian Piatt both visited the set in Rome a few weeks ago, though an embargo currently prevents them from revealing anything more than the fact that they were there.
3. Variety reports that British broadcaster Channel 4 has bought a minority stake in Eleven Film, which is currently developing Nazareth for Fox TV. When the series was first announced in April, it was said to be about "the formative years of Jesus of Nazareth." Now Variety says it will tell "the story of the teenage Jesus". So it will basically take place after that incident in the Temple when Jesus was 12, then?
4. A few more cast members for A.D. have been revealed via Twitter:
Delighted to be cast as Judas Iscariot on @ADtheseries coming Easter Sunday to @nbc #ADTheSeries #HappyDays

— Cesare Taurasi (@CesareTaurasi) November 10, 2014
Blessed to announce I'm playing Simon the Zealot in @nbc's new epic series A.D @ADTheSeries #ADTheSeries @RealRomaDowney #Dreamweaving

— fraser ayres (@fraserayres) November 6, 2014
Excited to announce that I'm playing Cornelius in @ADTheSeries coming Easter Sunday to @nbc. #ADTheSeries

— Will Thorp (@willfthorp) November 6, 2014
The cast and crew of A.D. also tweeted pictures of a "sign" in the heavens when two clouds intersected to form a cross. Plus, the series' official Twitter account tweeted the following picture of the already-announced Vincent Regan as Pontius Pilate:
Get a first look of #VincentRegan as Pontius Pilate in #ADTheSeries airing this Easter Sunday on @NBC. pic.twitter.com/EqFqwj6SPU

— A.D. (@ADtheseries) November 13, 2014
5. Tom Felton has posted two new pictures from the Spanish set of Clavius, in which he plays one of the Roman soldiers investigating reports of Jesus' resurrection:
That last picture, of course, is a nod to the fact that a movie called Horns starring Felton's Harry Potter co-star Daniel Radcliffe recently opened in theatres.