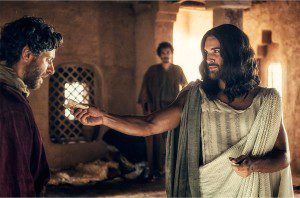 At last, we know who some (but not all) of the actors will be in A.D., the NBC series that Mark Burnett and Roma Downey are producing as a follow-up to their hit miniseries The Bible.
First, People reveals that Jesus will be played by Argentinian actor Juan Pablo di Pace, and, just as Diogo Morgado's Jesus in The Bible quickly earned the nickname "Hot Jesus", so too People notes that di Pace is "easy-on-the-eyes".
Second, Deadline reports that, just as The Bible went for gratuitous diversity in some of its casting choices, so too the first-century Palestinian Jews in A.D. will be played by actors from all over the map, geographically and otherwise.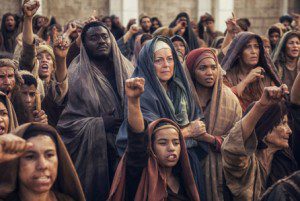 For example, a photo posted by Deadline shows Gambian-born actor Babou Ceesay as the apostle John, Italian-Australian actress Greta Scacchi as the Virgin Mary, and the half-Zimbabwean, half-Chinese Chipo Chung as Mary Magdalene.
The website also notes that the series will give special prominence to its female characters. Mary Magdalene is described as the "backbone" of the Jesus movement after the Crucifixion, while Jodhi May will play Leah, wife of the high priest Caiaphas and "arguably the smarter of the pair. This proud and influential noblewoman holds much sway in the family."
Other actors announced today include:
Richard Coyle as Caiaphas
Vincent Regan as Pontius Pilate
Joanne Whalley as Pilate's wife Claudia
Claire Cooper as Herodias
Adam Levy as Simon Peter
Emmet Scanlan as Saul aka Paul
George Georgiou as a Zealot named Boaz
Jóhannes Jóhannesson in an unspecified role
To my knowledge, only two of these actors have already appeared in a Bible movie, i.e. Regan, who played King Sedecia in Jeremiah and King Herod in the BBC miniseries The Nativity, and Jóhannesson, whose silhouette played Cain in Darren Aronofsky's Noah. Two other actors have worked — or are currently working — in Bible movies that have not yet been completed: Whalley is playing Noah's wife "Emmie" in the BBC miniseries The Ark, and Georgiou is playing a Pharisee in Killing Jesus.
I happened to come across the names of two other actors who are involved in A.D. the other day, including at least one Bible-movie veteran, but since their names have not yet been revealed officially, I won't say anything about them here yet.
The series premieres Easter Sunday, i.e. April 5, 2015.
Below are some of the tweets announcing the actors' involvement (there should be seven, but for some reason I see only two and a half in the post preview):
"Excited to be plying Jesus in @ADTheSeries coming Easter Sunday to @nbc. #ADTheSeries" pic.twitter.com/lvffVoaAJ8

— Juan Pablo Di Pace (@juanpablodipace) November 5, 2014
Being part of #AD on #NBC,playing the iconic SAUL is why I do this chances like these are rare Thanks @RealRomaDowney & @MarkBurnettTV

— Emmett J. Scanlan (@EmmettScanlan) November 5, 2014
Thrilled to announce I have been cast in @ADTheSeries coming Easter Sunday to @nbc. #ADTheSeries" @RealRomaDowney @MarkBurnettTV