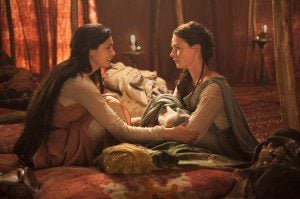 It's been a big week for Bible-movie news. Here are a few of the highlights.
1. The Lifetime Network announced that Mark Burnett and Roma Downey are producing a two-hour special for them called The Women of the Bible, featuring interviews with famous pastors' wives (Kay Warren, Victoria Osteen) and others who will tell the stories of Eve, Sarah, Rahab, Mary Magdalene and the Virgin Mary. The special will air right before the premiere of the two-part miniseries The Red Tent on December 7.
This is just the latest example, following their partnership with Paramount and MGM on the upcoming Ben-Hur remake, of Burnett and Downey being brought on-board to help promote existing projects to the "faith-based" audience. It will be interesting to see how the "faith-based" audience reacts to this particular partnership, though, given that The Red Tent is based on a novel that viewed the stories of Jacob, his wives and his daughter Dinah through a sort of deeply subversive, pagan-feminist lens.
Here is a recently-released trailer for the miniseries:
Burnett and Downey are also currently shooting the NBC series A.D., which is sort of a sequel to their hit History Channel miniseries The Bible, in Morocco.
2. Speaking of Ben-Hur, it turns out Israeli action star Gal Gadot won't be playing the female lead after all, because she's too busy playing Wonder Woman in Batman V Superman: Dawn of Justice and its various spin-off movies.
3. The Oscar campaign for Darren Aronofsky's Noah — and for Patti Smith's theme song 'Mercy Is' in particular — soldiers on. Aronofsky and Smith will screen the film and perform the song, respectively, and then have a public chat about it at the Museum of the Moving Image in New York on November 17.
Aronofsky also recently spoke at the Produced By: New York conference, where he said the film went through "a very long, silly preview process. A lot of money and time was wasted." He also noted that he "didn't have the skills to do it yet" when he first tried to get the film made in the late 1990s, and that he personally supervised the "iPhone mix" on Noah to make sure it sounded good on portable devices.
4. Clavius, the film about Romans investigating the Resurrection, has moved its base of operations from Malta to Spain, where they are currently shooting scenes set in Pontius Pilate's palace. Ideal has a picture of the Jerusalem walls, while El Almeria has pictures of the palace itself. Tom Felton, who plays one of the Romans, also posted the following picture of himself and "lads at work" to his Instagram account: