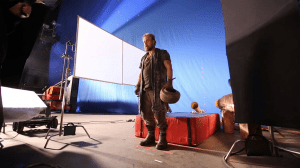 And the videos keep on coming!
Three weeks ago, five excerpts from the bonus features for Noah were released online, to coincide with the film's release to Digital HD. The Blu-Ray itself came out last week, and with it, a few new videos.
Check 'em all out below the jump.
First — and similar to the clips that were released three weeks ago — a new clip from one of the featurettes was posted to the film's Facebook page. It includes a few deleted lines of dialogue from the climactic fight between Noah and Tubal-Cain:
Second, Parade posted the following clip featuring interviews with the actors, most if not all of which seem to have been filmed for the electronic press kit:
Finally — for now — the National Oceanic and Atmospheric Administration hosted a screening to encourage people to be more "weather ready":
Update: The Tumblr site Moviebarcode has just turned its attention to Noah, too:

Upperdate: I really need to keep better tabs on the movie's Facebook page. It turns out that they also posted two excerpts from the 'Special Makeup FX on Noah' featurette, which is only available with the iTunes download and the exclusive Target Blu-Ray. I can't seem to embed the clips here — maybe there's a limit to how many Facebook videos can appear in a single post? — but they cover Anthony Hopkins' transformation into Methuselah and creating the non-digital animals.
Check out earlier Noah videos and my shot-by-shot trailer analyses here: