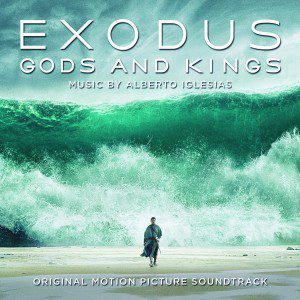 Copies of the Exodus: Gods and Kings soundtrack album, which doesn't come out until next month, must be making the rounds already. We now have a more detailed list of its contents, and there are even a few reviews of it out there.
The biggest surprise, for me at least, is that some of the most important scenes in the film were not scored by Alberto Iglesias, whose name appears on the front cover. Instead, tracks like 'Hittite Battle' and 'Tsunami' — from the big spectacular sequences that open and close the film and give it its epic feel — were written by Harry Gregson-Williams (The Chronicles of Narnia, Kingdom of Heaven), while other tracks like 'Lamb's Blood' and 'The Chariots' were written by Federico Jusid (The Secret in Their Eyes).
There's nothing necessarily wrong with having multiple composers on a film. One of my favorite albums when I first got into soundtrack collecting was the score for The Last Emperor, which featured the music of Ryuichi Sakamoto, David Byrne and Cong Su — all of whom shared a richly-deserved Oscar for their work.
But that album listed all three composers on its cover, whereas the Exodus album lists just one — and he isn't even the one who scored some of the film's most potentially iconic scenes (such as the scene that is on the cover!). You can't help wondering if whoever decides these things thought Iglesias, a three-time Oscar nominee, represented the film's best shot at getting a nomination — and if the fact that other composers did some of the heavy lifting might undermine his chances.
In any case, you can listen to 'Tsunami' at the Hans Zimmer website, which also has a list of who wrote which track and how long each track is (copied below).
Meanwhile, director Ridley Scott spoke to Variety recently about the soundtrack, and Variety writer Tim Greiving offers his own assessment of the score:
"I was looking, really, for anthems," says Scott. "Because after all, it is about the man — yet I didn't want it to be godlike. The hardest thing was to find out what could fly and be emotionally appropriate. And respectful, actually."

Iglesias' score elegantly braids the exotic scales of Egypt with the melancholy quality of the Jewish musical tradition for a large-scale effort that keeps pace with Scott's biblical vision, never losing touch with modern percussive intensity for action sequences. It's big, Old Testament music that wouldn't feel inappropriate in a Cecil B. DeMille epic — ancient without being antiquated.
Soundtrack Geek, for its part, has an actual review of the soundtrack album:
What is perhaps the most impressive trait to me is that while the score is on the edge of being derivative and generic it just keeps itself on the side of good with using middle eastern instrument and a wide variety of voices. This is the kind of score I can quickly fall in love with. But where's that theme? . . .

While Iglesias provides some lovely cues with middle eastern flair, Gregson-Williams and Jusid provides the epic. It's a great collaboration and it's well-produced.
Soundtrack Dreams also has a review:
I knew the subject, I saw the trailer, I wanted a massive epic score. I wanted long cues, a powerful theme at least, and didn't get that. An epic movie score with 32 cues, most of them roughly 2 minutes long just didn't seem to work for me. But once the other composers came to help and the cues got longer, I finally understood and connected with this score. I'm sure it will grow in me with more listens and it will surely get that chance. Right now I am left with the pleasant sensation of the wind caressing my skin and with the deafening echo of the waters being split.
And now, here are the 32 tracks, with running times and composer credits (see my earlier post for some comments on what the track titles might mean):
1. Opening + War Room (2:39) — Alberto Iglesias
2. Leaving Memphis (2:03) — Alberto Iglesias
3. Hittite Battle (4:16) — Harry Gregson-Williams
4. Returning To Memphis (2:37) — Alberto Iglesias
5. Moses In Pythom (1:50) — Alberto Iglesias
6. Nun's Story (2:18) — Alberto Iglesias
7. The Coronation (2:28) — Federico Jusid
8. Ramses Retaliates (0:53) — Federico Jusid
9. Arm Chop (1:58) — Alberto Iglesias
10. Goodbyes (2:41) — Alberto Iglesias
11. Journey To The Village (2:14) — Alberto Iglesias
12. The Vows (2:24) — Harry Gregson-Williams
13. Alone In The Desert (1:36) — Alberto Iglesias
14. Climbing Mount Sinai (2:17) — Alberto Iglesias


15. I Need A General (3:22) — Alberto Iglesias
16. Exodus (2:52) — Alberto Iglesias
17. Ramses' Orders (2:44) — Federico Jusid
18. Moses & Nun (1:48) — Alberto Iglesias
19. Moses' Camp (2:42) — Alberto Iglesias, Federico Jusid
20. Ramses' Insomnia (2:58) — Alberto Iglesias
21. Hail (2:01) — Alberto Iglesias
22. Animal Deaths (2:39) — Alberto Iglesias
23. Looting (1:19) — Alberto Iglesias, Federico Jusid
24. Ramses' Own Plague (2:05) — Alberto Iglesias
25. Lamb's Blood (1:39) — Federico Jusid
26. We Cross The Mountains (2:51) — Alberto Iglesias
27. Into The Water (4:00) — Alberto Iglesias, Federico Jusid
28. The Chariots (1:52) — Federico Jusid
29. The Hebrews (0:58) — Alberto Iglesias
30. Tsunami (5:33) — Harry Gregson-Williams
31. Sword Into Water (1:12) — Alberto Iglesias
32. The Ten Commandments (3:37) — Alberto Iglesias
The album as a whole will reportedly be 78 minutes and 24 seconds.