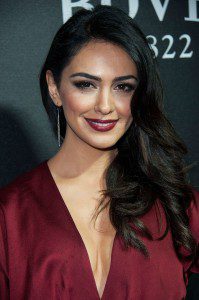 The new version of Ben-Hur has found its Esther.
Deadline reports that the part, which was going to be played by Gal Gadot until her Wonder Woman commitments got in the way, will now be played by Nazanin Boniadi, an Iranian-British actress who currently co-stars on the TV series Homeland.
Deadline reports that other actresses who were up for the part included: Sofia Boutella, who is Algerian; Moran Atias, who is Israeli; and Natalia Warner, about whose background I currently know nothing.
Boniadi made the news a few years ago when
Vanity Fair
reported that she briefly dated Tom Cruise between November 2004 and January 2005, after the Church of Scientology conducted some sort of "wife-auditioning process" for him. She no longer belongs to the Church.
In other news, the Italian news site The Local reported last week that over 2,000 people lined up at a shopping centre in Matera to audition for parts as "Roman soldiers and other characters of ancient times". The filmmakers are also looking for extras from Algeria, Morocco and Tunisia. The film starts shooting in February.