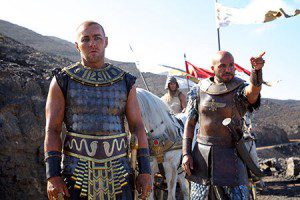 Exodus: Gods and Kings already had the smallest first-weekend gross of the year's three Bible movies. Now it has the steepest second-weekend drop.
Exodus earned an estimated $8.1 million this weekend, which represents a drop of 66.6% since last week. (Yes, that's the actual number being floated by Box Office Mojo.) That's steeper than the 59.5% by which Son of God dropped in March and the 61% by which Noah dropped in April.
Exodus, which opened at #1 last week, had to settle for #4 this week, behind the third installments in the Hobbit and Night at the Museum franchises as well as Annie.
Prior to this, the steepest drop for a Ridley Scott film had been the 59.4% by which Prometheus dropped in June 2012. The second-weekend gross for Exodus is also smaller than the $9.6 million that Kingdom of Heaven, Ridley Scott's previous epic box-office disappointment, earned during its second weekend in May 2005.
The box-office boost provided by the Christmas season
could
lift
Exodus
beyond the $59.7 million that
Son of God
earned earlier this year. But it seems doubtful that
Exodus
will come anywhere close to approaching the earnings of
Noah
or
The Prince of Egypt
, both of which grossed just over $100 million in North America.
Here is where Exodus currently ranks among the Bible films of the past 35 years:
2004 — $370.8 million — The Passion of the Christ
1998 — $101.4 million — The Prince of Egypt
2014 — $101.2 million — Noah
2014 — $59.7 million — Son of God
2009 — $43.3 million — Year One
2014 — $39.8 million — Exodus: Gods and Kings
2006 — $37.6 million — The Nativity Story
1981 — $31.7 million — History of the World, Part I
2002 — $25.6 million — Jonah: A VeggieTales Movie
1979 — $20.0 million — Monty Python's Life of Brian
1980 — $14.2 million — Wholly Moses!
2006 — $13.4 million — One Night with the King
1988 — $8.4 million — The Last Temptation of Christ
1985 — $5.1 million — King David
2003 — $4.1 million — The Gospel of John
The real question now is how well Exodus will do overseas. Only three Bible films have made much of a dent at the foreign box office in the past few decades: Noah is tops with $261.4 million, The Passion of the Christ comes a close second with $241.1 million, and The Prince of Egypt places third with $117.2 million. Exodus has already earned $61.2 million overseas and has not yet opened in many countries, so it seems a safe bet that it will do better than The Prince of Egypt, at least. But beyond that…?