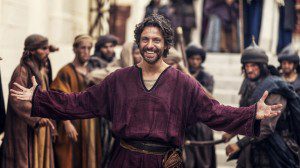 Films like Clavius and TV specials like Killing Jesus might be in the works, but it's probably safe to say that the most-hyped Bible-themed production of 2015 will be A.D., the follow-up to Mark Burnett and Roma Downey's phenomenally successful The Bible.
They released a trailer for the new series last month. And now they've released a new promo set to the classic song 'They'll Know We Are Christians' (which has been renamed 'By Our Love' for some reason), performed here by For King & Country.
Here is the new promo:
You can also get photos and other promotional materials for the show here and here.
A.D. will run for 12 episodes, the first of which airs Easter Sunday, i.e. April 5, 2015. That's only three and a half months from now, in case you're wondering!