It has been a little over two years since I first mentioned the ancient-mythological epic Gods of Egypt here at this blog, and now — with the film's release only three and a half months away — we finally have some official images from the film.
The studio released six character posters through six different websites today. And, predictably, many people are complaining about the ethnic composition of the movie's cast, the same way they did about Exodus: Gods and Kings last year.
Case in point: the headline on a Washington Post article by Soraya Nadia McDonald complains that "no lessons [were] learned" from the Exodus controversy.
But Gods of Egypt started shooting in March 2014 — four months before the Exodus controversy flared up, and nine months before the film itself came out. What's more, I think the studio behind Gods of Egypt was trying to head off a similar controversy by releasing posters that feature actors from a range of ethnic backgrounds.
Admittedly, yes, three of the posters feature white actors: Gerard Butler as the bad god Set (via Entertainment Weekly), Nikolaj Coster-Waldau as the good god Horus (via Yahoo! Movies) and Brenton Thwaites as a thief named Bek (via Twitter):
But two of the posters also feature actresses of part-Asian descent: Elodie Yung, who is half-Cambodian, as the goddess Hathor (via Hitfix) and Courtney Eaton, who is part-Chinese, as the mortal woman Zaya (via Teen.com):
And one features African-American Chadwick Boseman as the god Thoth (via IMDb):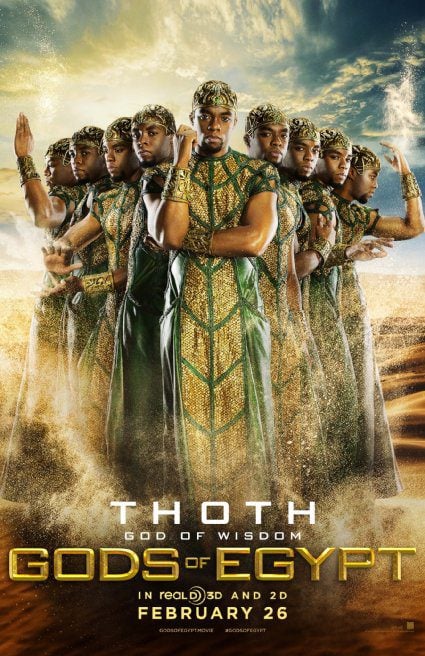 This is a marked improvement on Exodus: Gods and Kings, which featured a number of Middle Eastern actors in the supporting roles but only white actors in the major roles (with the possible exception of Ben Kingsley, who is half-Indian).
But that isn't stopping some people from complaining about this new film.
And so it looks like we're in for another several months of hand-wringing over the "whitewashing" of ancient Egypt — hand-wringing that will overlook the diversity that does exist within this film, just as it overlooked the diversity within Exodus.