One of the more persistent controversies over the past two years has concerned films that are set in ancient Egypt but have no actual Egyptians in any of the lead roles.
Exodus: Gods and Kings, which came out last year, had a number of Middle Eastern actors in its supporting cast, while Gods of Egypt, which comes out early next year, features Asian and African-American actors in its character posters — but in both cases, the central roles have gone to actors of northern European descent, and the films have been slammed in social media for their "whitewashing" of the past.
Now comes word that Universal Studios has found an actress ready to tackle the title role in their upcoming reboot of The Mummy — and it seems that the filmmakers may be trying to avoid the negative attention that has plagued those other films.
The actress in question is Sofia Boutella, an Algerian whose family moved to France when she was ten years old. She recently made her mark on the big screen as Gazelle, the killer with prosthetic blade-shaped legs in Kingsman: The Secret Service.
Boutella isn't Egyptian, but she is North African, which makes her a much better fit for the part of an ancient Egyptian than the stars of Exodus and Gods of Egypt.
The new film is also rumoured to star Tom Cruise, though no one is saying what his role would actually be yet. Presumably he'd be a non-Egyptian like the Brendan Fraser character in the last three Mummy films, though the new film will be set in the present day, unlike the Brendan Fraser films which were all period pics.
The mummy in the 1999 and 2001 films was played by
Arnold Vosloo
, a South African "of Dutch and German ancestry." His lover was played by
Patricia Velasquez
, a Venezuelan whose mother is "a member of the indigenous Wayuu people." And the Pharaoh Seti I was played by
Aharon Ipalé
, who hails from Morocco.
Interestingly, at least one actor of Egyptian descent has played an ancient Egyptian in a recent blockbuster franchise (the Night at the Museum movies), but his ethnic background hasn't always been recognized as such, as per this meme: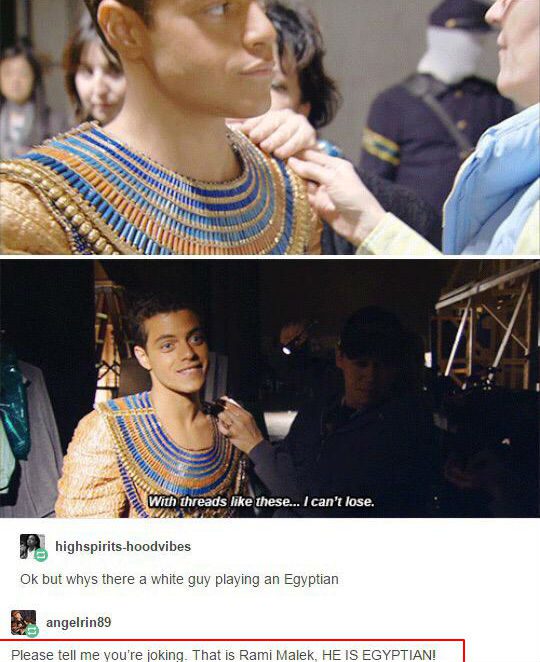 Interestingly, when this character's parents were introduced in the third Night at the Museum, they were played not by North African or Middle Eastern actors but by actors of at least partial Indian descent (Ben Kingsley and Anjali Jay).
— The screen capture at the top of this post is from Kingsman: The Secret Service.