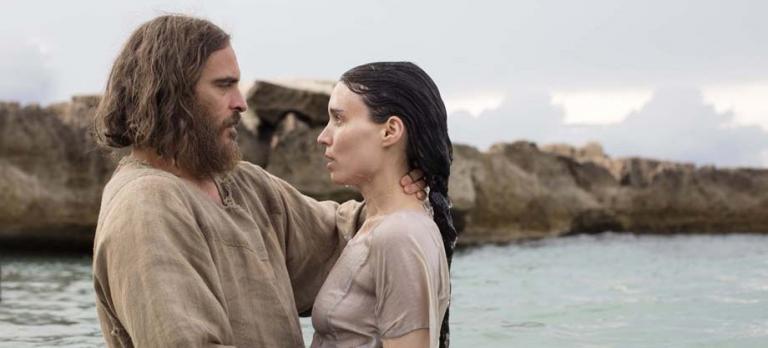 It's been over a year since Mary Magdalene — starring Rooney Mara in the title role and Joaquin Phoenix as Jesus — opened in British and Australian theatres. Now American audiences are finally going to see the film, and that means it's time for a new trailer — one that emphasizes different aspects of the film than the earlier trailers did.
The first and second international trailers — released in November 2017 and February 2018 — put Mary front-and-centre, emphasizing the film's feminist themes and underscoring the idea that she was drawn to Jesus because he was close to God. But the American trailer, released today, begins with Jesus asking Mary a question, and Jesus and Mary smiling at each other — and that sets a rather different tone for what follows.
You can watch the new trailer here:
Incidentally, it's fascinating, to me, to see a glimpse of the Magdala synagogue in this trailer, as I actually went to the real-life Magdala just a few months ago and paid a visit to the first-century synagogue there, which was discovered only ten years ago.
Got a little emotional today while visiting #Magdala, the home of #MaryMagdalene and the site of the only 1st-century Galilean synagogue that has been discovered (so far). Odds are very good that Jesus himself taught and worshiped here, that he touched the stones I touched today. pic.twitter.com/eqck3GTAH6

— Peter T Chattaway (@ptchat) November 20, 2018
Anyway. I will have more to say about the film before it opens April 12. Stay tuned.
Check out earlier Mary Magdalene videos here:
The first international trailer (November 29, 2017)
The second international trailer (February 15, 2018)
The 'Making Of' featurette (March 9, 2018)