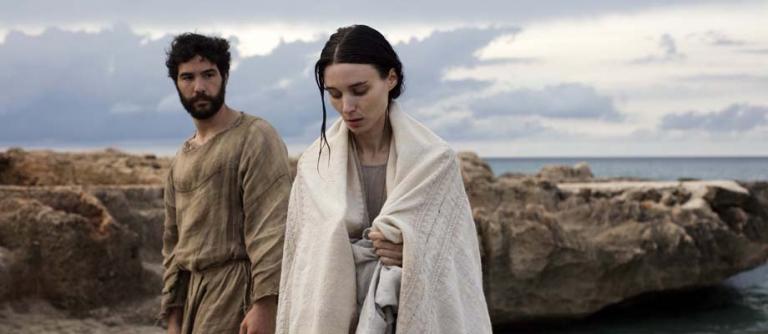 With the film's world premiere at the Dublin International Film Festival less than two weeks away, the makers of Mary Magdalene have released a new trailer that quotes a few positive reviews of the film and includes a bit of new footage, to boot.
Here is the trailer, which is only about a minute long:
Note how the trailer begins with Mary rejecting her family's insistence that she become a mother. We do know that at least one of the women who followed Jesus on his journeys was married (i.e. Joanna), and it seems that Jesus actually encouraged his male followers to leave their spouses, at least during his ministry (cf. Matthew 19:29, Luke 18:29-30), so it's not impossible that the historical Mary Magdalene was married too — but the movie Magdalene's rejection of regular domestic life would certainly fit with the way Jesus and others rejected it too. (I am actually curious to see whether the film will develop Mary Magdalene's views on motherhood any further when she meets Jesus' mother.)
Beyond that, the trailer also shows Mary Magdalene resisting the idea that the followers of Jesus should be "soldiers". And, of course, we get a glimpse of Jesus "cleansing" the Temple and declaring that commerce should not be part of worship there.
Mary Magdalene will have its world premiere in Dublin on February 28, before opening in European theatres on March 16 and in Australian theatres on March 22.
It does not currently have a North American release date.
Check out earlier Mary Magdalene videos here:
The first international trailer (November 29, 2017)