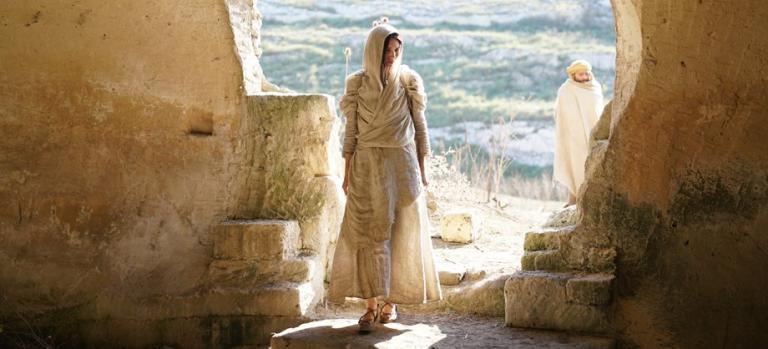 Mary Magdalene might not be coming to North America for the foreseeable future, but the rest of the world will get to see the film when it starts rolling out next week.
To promote the film, Universal Pictures UK has released a brief featurette in which the director and a few of the actors talk about the movie and its themes. Here it is:
A few new interviews with director Garth Davis and his cast have surfaced online too.
Davis spoke to Insights about what it was about the film that appealed to him:
I must say that when I read this [script] and saw where it was going, it made total sense to me, where with other biblical movies I feel like I am being told a story. I don't really connect to [other films about Jesus] as much as I connected to this. So I was excited that this film was going to be more relatable. And to celebrate that God is within us is such a fantastic message. I love how Jesus in this film battles between the flesh and the spirit, and we can see his human side. I think that's what is very exciting about this [version of] Jesus. . . .

The inspiration was the Gospel of Mark and the Gospel of Mary (an apocryphal book not technically classed as a gospel by scholastic consensus) – they were the two main sources that the film drew from.

We also had a lot of researchers and academic and religious advisors. We had a lot of feedback through these people, both through writing the script and also during the making of the film. Whilst everyone had a strong opinion from their points of view and often there was a lot of arguing, there was definitely a common consensus that Mary's story needed and deserved to be told and she needed to be acknowledged as an apostle. So that was one thing that they all agreed on [laughs], which is good.
Regarding Joaquin Phoenix's performance as Jesus, Davis adds:
He did a lot of in-depth research and he always had a very emotional and intelligent connection to his choices. Even in the healing scene, he talked a lot about the fact that people who had leprosy were regarded as people with demons. So to imagine a man who would embrace those people openly and with unconditional love would have been radical in that time. So in the healing scenes there is something deeply beautiful going on in those scenes. Some of the scenes are also very contemporary, these are the issues we are facing today. Homelessness and people who are shoved into the shadows of the suburbs, they're the ones that need our love and our help. Jesus shows us that and I think Mary shows us that sometimes it's about meeting people where they are at.
Davis spoke to Screen Daily about dealing with the Weinstein scandal fallout:
In light of recent events, the notion of this patriarchal-dogma-defying story being connected to a man like Harvey Weinstein is a troubling one for Davis. "It's awful," he admits. "Our film celebrates everything that is the antithesis of what's happened. It's definitely something you can't be associated with. So my main focus is just to celebrate Mary and get her story out into the world. That's my absolute mission."
Davis also spoke to the Australian Associated Press:
But the film has been left without a distributor in the US after the recent bankruptcy of The Weinstein Company following the countless abuse allegations against the studio's head, Harvey Weinstein.

"Look at the movie's poster, 'her story will be told', how's the irony?" Davis told AAP in Sydney while promoting the film.

Mary Magdalene, produced by See-Saw Films, will be released in Australia and across Europe but a North American release is still uncertain.

"I mean we can't lose this battle. I would hate this film not to be shown in North America because of Harvey. I think that's a tragedy," Davis said.
Meanwhile, Joaquin Phoenix, who plays Jesus, spoke to The Guardian:
In Mary Magdalene – a revisionist take on the gospels released later this month – Phoenix co-stars as the messiah alongside his girlfriend, Rooney Mara, who plays Mary Magdalene. Surely this was a role that required some rigorous research? There's a lot of material to wade through about Jesus.

He shrugs, unconcerned. "Lots of material. Lots of conflicting material. But, in the end, it's a character. And, as with all characters, whether it's Johnny Cash or whoever, you have to make it about a man; about his personal experience. And for Jesus, what makes his death such a sacrifice is that he didn't want to die. This was a man who wanted to continue the experience of living, just as we all do. So it was important to me to find those human qualities."
He also spoke to Christian Today …
'And at some point you feel, how do I make this personal? How do I have these feelings? And in some ways it is something that we are all familiar with, the struggle between the spirit and the flesh, and I think it's a conflict that we all have. Of course Jesus felt that very strongly. I guess I have always thought of him – which I think sometimes is typical – as the Spirit. And I realised for the Crucifixion to be what makes it such a sacrifice is that there was the human also that didn't want to leave.

'In Gethsemane he says "Let this cup pass" – there are so many translations – and that is just heart-wrenching to read that, and that was really key for me to find somebody that loved the earth and loved other people and loved the idea of seeing somebody else and touching them and feeling water on his skin and all these very human feelings, and he didn't want to let that go, but the courage in saying "Not my will but thy will". And there is something so powerful about that and it really resonated strongly with me.'
…and to Sky News:
"Clearly she was an important part in the movement, she was the only disciple that we know that was there at his crucifixion and his resurrection," he says.

"There's no mention in the Bible of her being a prostitute. So these were the things that were created, I assume, when the Church became more formed and clear in his vision of what it wanted to be.

"There seemed to be an overt intention to exclude women from that process. And I think that is totally relevant to what we see today."
Davis, incidentally, had this to say about Phoenix to Esquire magazine:
Here's Garth Davis, who directed him in Mary Magdalene: "Working with Joaquin is like working with this beautiful wild animal, where you have to give him the space to be free, so his performance can roam freely: raw, uncontrived and truly natural. If he smells the design of the scene, you lose his free spirit; if the script is weak, he will expose its flaws. He is fiercely intelligent and almost completely instinctual. And he has this immense sensitivity that can be both his curse and his gift, but for me, that is what it means to be human. There was no other person in my mind who could have played Jesus."
Finally, HeyUGuys posted some red-carpet video interviews with director Garth Davis, writer Philippa Goslett, producers Iain Canning and Liz Watts, and co-stars Rooney Mara (who plays Mary Magdalene), Chiwetel Ejiofor (Peter) and Tahar Rahim (Judas).
Check out earlier Mary Magdalene videos here:
The first international trailer (November 29, 2017)
The second international trailer (February 15, 2018)