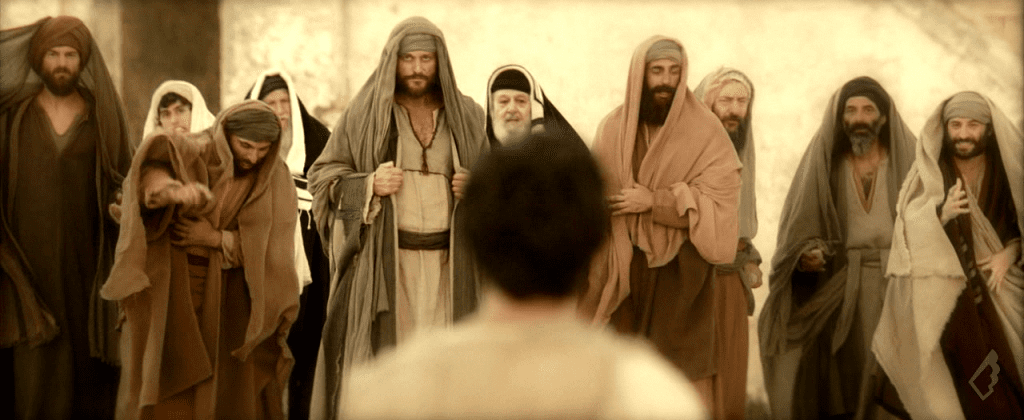 Paul, Apostle of Christ comes out in nine days, and there are lots of new videos to watch, including clips from the film itself and interviews with the filmmakers.
First, seven clips have been posted to the Affirm Films YouTube channel.
In the first clip, Paul tells a doubting Luke that love is the only way to respond to the cruelty of pagan Rome (along the way, Paul quasi-recites Romans 12:21 and I Corinthians 13:4-7; interestingly, he then tells Luke to "write it down", but there is no evidence that Luke was involved in the writing of those epistles, which pre-date this scene in any case, and Luke did not quote these passages when he wrote the book of Acts, either):
In the second clip, Luke enters Rome in the film's very first scene:
In the third clip, Priscilla and Aquila talk about whether to stay in Rome:
In the fourth clip, Saul recalls the stoning of Stephen:
In the fifth clip, Aquila, Priscilla and Luke tell their fellow Christians not to fight back:
In the sixth clip, Aquila argues with a new convert who wants to storm the prison:
And in the seventh clip, Paul and Luke are faced with the fallout of that prison attack:
There are two new featurettes, too.
In this one, actors James Faulkner (who plays Paul) and Jim Caviezel (Luke) discuss their characters' friendship:
And this one looks at the egalitarian relationship of Priscilla and Aquila:
The studio has also posted some more "letters from Paul", narrated by Faulkner:
Meanwhile, in addition to the videos released by the studio, the makers of Paul, Apostle of Christ have appeared in videos posted by other people while promoting the film.
Caviezel and producer Eric Groth spoke about the film on a panel with Raymond Arroyo and Scott Hahn. A 59-minute version of the panel is viewable here (and note how Caviezel says the "write it down" scene was added to the script at his request):
A slightly shorter, 49-minute version of the panel is viewable here:
Groth also promoted the show on Perspectives with his fellow producer T.J. Berden (who says, "We were treating [scripture] as you would treat a great Shakespearean text"):
Caviezel also mentioned the film while preaching to Catholic university students:
On the Protestant side of things, Caviezel also took part in a promotional event at Liberty University, which has been shown in many churches as part of a quasi-private "simulcast". Some soundbites from that event were quoted in this story at CBN News:
The actor said one of the biggest reasons he took the role of Luke was because he sees how today's Christians are being murdered for their faith just like the early church. He also reminded the students that they would be persecuted while acting out God's calling on their life.

"You're going to be given a power and an opportunity. You're here for a reason," Caviezel noted. "Jesus said, 'If they persecute you, know they persecuted me first.'"
Faulkner, Caviezel and Groth also spoke recently to the Catholic News Agency:
"Well I'm happy to admit that Jim is a much more devout Christian than am I, and I drew from his faith whenever possible," said Faulkner, who was raised in the Church of England.

Faulkner told CNA that playing Paul changed him as he "read and reread Paul's letters" in preparation for the role.

"Do I have more humility? Yes. Do I have more love for my fellow man? Yes. Is there a possibility of redemption even for myself? Yes, there is," reflected Faulkner.
And that's about it for now. The film comes to theatres on March 23.
March 28 update: I have replaced all of the WingClips videos with equivalent videos from the Affirm Films YouTube channel; I find the YouTube clips easier to embed.
Also, the Liberty University promotional event is now on YouTube, too:
Check out earlier Paul, Apostle of Christ trailers and other videos here: