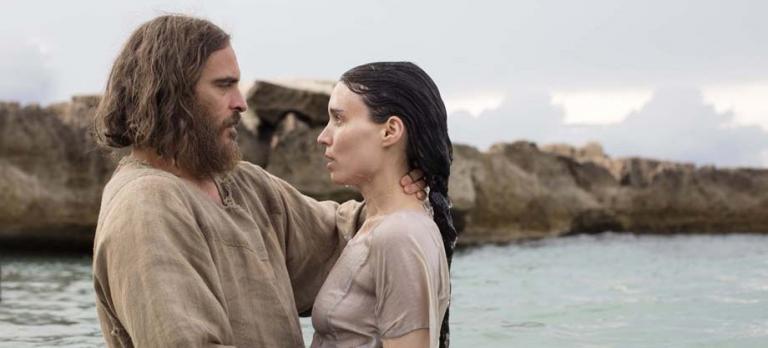 Mary Magdalene is finally coming to North American theatres this week. Yesterday I rounded up some interviews that director Garth Davis did when the film played overseas last year. Today I'm rounding up some interviews with the film's lead actors.
First up, there is Rooney Mara, who plays the title character.
I linked to a number of interviews that Mara did about this film in previous posts of mine — in 2016, 2017 (again) and 2018 — and she also appeared in a number of articles and videos that I posted yesterday as part of my Garth Davis interview round-up.
On her own, she spoke to Harper's Bazaar about Mary Magdalene's "feminism":
"She's incredibly radical for her time," Mara told us. "It would have been totally shocking and unheard of for a woman to go off with a load of men, leaving her family. She really was a profound feminist figure way ahead of her time. I couldn't believe her story hadn't been told before." . . .

When researching the role, Mara discarded everything she had been taught about Magdalene and started anew based on Davis' script and the Gospel of Mary, which offered a very different view. The film also explores the relationship between Magdalene and Jesus, played by Joaquin Phoenix – who Mara is also dating in real life.

"They have a really beautiful relationship," says Mara. "She really loved him and they have this understanding of one another. When he comes along, he's the first person in her life to really see her for who she is and understand that, appreciate it and make her feel that she can follow that thing that she feels inside her. I think the same goes for him. She sees and understands him in a way that no one else has. They're kindred spirits."
She spoke to the Malaya Business Insight about the film's exorcism scene:
One of the toughest scenes for Mara was the exorcism scene. Before leaving Magdala to follow Jesus, Mary's family calls on an exorcist to perform an exorcism on her. It is an act of love, the family believes. Davis explains: "They can't understand Mary's personality or her choices – they just see it as the demon…."

"That scene was really brutal, especially because of the way Garth chose to portray the family," says Mara. "He'd created a very loving environment and family. They all care deeply about each other so when the exorcism comes, it's that much more heartbreaking. It doesn't feel like a cliched version of the bad guys versus the good guys. They really love her, they think they're doing what's best for her."

While the scene was being shot, the cast and crew underwent a bizarre and unsettling experience. "We all had a copy of one of the ancient texts as we were preparing for the scene," says Davis, "and almost the minute we started walking into the water, the wind just stopped. Completely. There was no movement. And then lightning started breaking all around us. It freaked everyone out! An interesting moment of life mirroring art."
Mara and possibly other members of the cast also spoke to the Independent in Ireland — in articles here and here — that are currently being hidden behind a paywall.
Also behind a paywall: an interview with Mara, and possibly others, in The Times.
Next up, Joaquin Phoenix, who plays Jesus in the movie.
I linked to a couple of interviews that Phoenix did about this film in 2017 and 2018.
Since then, he has spoken to Will Ferrell for Interview magazine:
FERRELL: [laughs] You have another movie coming out where you're going to be playing Jesus Christ. You and I have both played Jesus in major pictures.

PHOENIX: Is that right?

FERRELL: Yes. In the movie Superstar [1999], starring Molly Shannon as her Mary Katherine Gallagher character, I come to her as Jesus in a vision.

PHOENIX: What drew you to that role? How did you prepare for it?

FERRELL: You know what, it was all about blue contact lenses. That was it. I was the hunky heartthrob that she loved, and she was dreaming about me. Of course, I was playing a high school kid, at age 32. I come to her, and I appear as that character, but now I'm Jesus as well, in a vision.

PHOENIX: That sounds beautiful.
He spoke to Anne Thompson @ IndieWire:
"Luckily not a lot of people are familiar with the character, so I had a lot of freedom," he joked. "There always has to be a moment where you have to say, 'This is mine, my interpretation.' It's something I have to do with every movie. 'Fuck, I hate that they have this expectation of what this scene is supposed to be, like I'm supposed to achieve something.' I hate the idea of a set goal."
He spoke to the Independent in the UK:
Coming off the back of You Were Never Really Here, in which he plays a monolith of a man – the type of physique where excess fat obscures the muscles but you can still tell that he could have your head doing 800rpm on your neck if he punched it – Phoenix was put on a "brutal" 300-calories-a-day for Mary Magdalene so as not to portray the first swole Jesus, and this was in Sicily, "where you just wanna roll out and eat some good pasta and have a glass of wine". . . .

"There's just no one like him," he says of Mary Magdalene director Garth Davis. "There's such a sensitivity and consideration and appreciation for what everybody does, he reveres acting or at least he makes you feel that way, and so he's super-perceptive.

"I remember we were doing this scene where I'm talking to Judas who's saying, 'Bring about the Kingdom now', and he leaves and Mary comes in and washes Jesus' feet. We were breaking it up into two different scenes for shooting, just me and Judas first – we were gonna get that and then Mary was gonna come in later.

"Then on this one take, for whatever reason I just really felt Tahar's [Rahim, Judas] performance, I was really caught up in the moment, and when he left I turned and I wanted Mary to just come in so bad. So I sat there and immediately I heard, off-camera, Garth whispering, 'Go to him Mary, go to him,' and she came in and we just kept running and played the scene out.

"Garth could sense that I was feeling something and wanted to move it forward, and when you work with a filmmaker like that it's a joy to be on set, you feel like you're in good hands and it's inspiring."
He spoke to the Irish Times:
"I think it was most important for me to find the man," he wheezes. "Obviously we think of the icon first. And that is very dangerous as an actor."

So, he didn't wrestle with the challenge of playing divinity.

"We are all spirit and flesh," he says. "It was more to do with finding that in myself and other people. I saw that in, for example, Sister Helen Prejean, who sits with death row inmates. I also thought of the Reverend James Lawson, who was very active in the Civil Rights movement."
He spoke to Radio Times:
"I definitely hesitated," he says of the decision to portray one of the most widely known figures in history, "[but] the second time I started reading [the script] I found it to be really emotional."

The film's feminist through-line was also a significant factor in his decision. Director Garth Davies (Lion) and writers Helen Edmunson and Philippa Goslett reposition Mary Magdalene as the 13th apostle, correcting the myth, still perpetuated today, that she was a prostitute.

"It's unf***ingbelievable that it's still happening," Phoenix says of the misconception. "You know, in the bible you have two options of women, you either have the virgin or you have the prostitute, the sinner."
He spoke to Premier in the UK about role models and forgiveness:
And the star notes the significance of how the film shows Mary, arguably one of the most misunderstood spiritual figures in history, in a different light.

"I couldn't help but think of young girls that are religious and have felt like their two examples of them in the Bible are either the virgin or the whore," he states.

"And even if you're not conscious of that, subconsciously it has to affect you and the way that you navigate the world and navigate your faith.

"It made me really excited, the prospect of young girls feeling like they're represented in a biblical context in such a positive way." . . .

And making this movie has changed his perception of what forgiveness – a big theme in Mary Magdalene – really is.

"I always thought forgiving somebody was like you were absolving them of their sins or their transgressions or whatever it is they did, and I started thinking it has more to do with the person forgiving than it is for the other person, it's such a difficult task," he suggests.

"And it's how it changes you that is the power, right? Because obviously you can forgive somebody, but what is that doing? You can't absolve them of what they did.

"But it changes how you feel about it, and I really liked that idea. It's something that really moved me."
He talked to Stuff in New Zealand about possible backlash to the film:
Did he worry about a backlash from the faithful?

"I mean, as an actor there's a danger in thinking that way. Of course it came into my head, in the same way it did when I played Johnny Cash in Walk the Line – both JC," he smiles, as if he's only just noticed. "You're playing somebody who's so beloved, and who everyone already has this idea of who they are, but I have to interpret it in the way I want. I can't work based on other people's feelings."
He spoke to Dazed:
Has doing Mary Magdalene affected you spiritually or religiously? From what I gather, you're not necessarily the most religious person.

Joaquin Phoenix: No, I'm not religious. When I got the script, it was a period when I had a greater curiosity about spirituality that was growing in me. When I read the script, it was something that I wanted to experience, and to feel, in a way. It was just chance.

Does that distance from religion help you when playing the role?

Joaquin Phoenix: It would be a different movie, right? Obviously, Christianity didn't exist when Jesus was alive. So there was nothing set. I was able to approach it as the man, and not the icon. I think that was important.
Phoenix also did a video interview with ODE Entertainment:
Finally, You Were Never Really Here director Lynne Ramsay told The Hollywood Reporter about how she treated Phoenix while he was working on her movie:
Despite the film's gritty and gruesome material (it's based on Jonathan Ames' book of the same name), director Lynne Ramsay said she made efforts to lighten the mood on set. "I knew Joaquin was going to be playing Jesus next," Ramsay told THR of the actor's work opposite real-life girlfriend Rooney Mara in the upcoming Mary Magdalene. "I sent my assistant out to buy plastic loaves of bread and fish. I'd give them one by one to Joaquin."
Finally, Chiwetel Ejiofor, who plays Peter in the movie.
Ejiofor spoke to the Evening Standard about staying in character between scenes:
"There was something about being in Sicily and walking all the time and about the sandals, the robes the freezing cold that kind of kept us a little bit in character," he said.

"We were in the hills of Sicily trying to set up tents with the equipment that we had to make ourselves wind cheaters.

"We ended up feeling very connected to whatever the journey was of these guys and this woman. It does put you in that place and makes you wonder what that journey really was like."
He spoke to the Los Angeles Times about this and his role as a preacher in Come Sunday:
Ejiofor was raised Roman Catholic and attended church and Sunday school as a child in London, but he never really engaged with religious outside of an intellectual curiosity. He'd read large parts of the Bible as a teenager, mostly because he was fascinated by the idea of the end of the world, but it wasn't until the actor took on "Mary Magdalene" (an upcoming drama starring Joaquin Phoenix and Rooney Mara from "Lion" director Garth Davis) and "Come Sunday" in succession that he really revisited the idea of faith.

The preparation for both films overlapped ("Mary Magdalene" was shot at the end of 2016, "Come Sunday" in early 2017), and Ejiofor re-read the Bible on planes ahead of shooting.
Ejiofor also talked about the significance of religion with Sky News:
Ejiofor says he doesn't see religion as a theme to avoid, but something which Western society should accept and approach differently.

"There's a lot of talk at the moment about secular societies. And I don't really believe there was ever such a thing as a secular society, not really," he says.

"And I think we're so steeped in religion in terms of our psychology, philosophy, social interaction, justice and government and gender dynamics, that everything is based on religious terms and religious ideas.

"We judge the days of the week over how many days since the birth of Christ. We are surrounded by religion in the West.

"This believe that we are slightly separate from it or that it's a 'ye olde' stuff is just not true.

"So I felt like actually exploring these stories, dealing with religion, spirituality, in a forthright way. It feels exactly right to me."
There is one more interview round-up to come. Stay tuned.
April 11 update: Mara spoke to USA Today about that photograph:
Rooney Mara never thought she'd go viral.

In 2017, the actress became a minor internet sensation when a photo leaked from the set of biblical drama "Mary Magdalene," showing her smoking a cigarette in full costume right next to a crucified Jesus (Joaquin Phoenix) on the cross. The anachronistic image quickly became a meme on social media and was picked up by sites such as BuzzFeed, which declared it "art."

Mara, 33, laughs at the mention of the picture, which was snapped in between takes.

"My grandparents have it framed in their house, actually," she says. In all fairness, "I was lighting it for (Phoenix) because he couldn't use his hands."
April 13 update: Phoenix told CNN.com he refused to do one thing:
Near the beginning of "Mary Magdalene," which opened Friday in the United States, the script called for Jesus to heal a blind woman by rubbing mud in her eyes, an echo of John's Gospel. (It's a blind man in the Bible, a blind woman in the film.)

"I knew about that scene from the Bible, but I guess I had never really considered it," Phoenix told CNN in a recent interview.

"When I got there, I thought: I'm not going to rub dirt in her eyes. Who the f*!# would do that? It doesn't make any sense. That is a horrible introduction to seeing."

The Bible doesn't fully explain why Jesus used mud or clay to heal the blind, though some experts say it was a common practice among first-century healers.

In "Mary Magdalene," Phoenix decided to go with his gut, licking a mudless thumb and gently rubbing the woman's eyes.

"It freed me up, in some ways, to discover what is truthful in the moment," he said. "That moment is not so much about a real miracle. It's about someone who has been dismissed by society finally being seen, embraced and encouraged to join the broader community. To me, that is a miracle. There's something profoundly beautiful about that sentiment." . . .

"The key for me was not to apply any rules to the character," he told CNN. "There are times when he is filled with rage and times when he is at peace. He is very much a human being. The one thing we keyed in on was that everything he felt, he felt strongly. I don't know if it was a sixth sense or something else, but he made an effort to listen to others and be deeply empathetic."
Phoenix also spoke to Newsweek:
"In America, we don't acknowledge the profound effect Mary and these other unnamed women [who attended the crucifixion] had upon this radical, rebellious, f***ing awesome, kick-ass movement," he said. "When I heard about that I started thinking, literally how could we not know about this?"

Commenting on the Gospel of Mary—an early Christian writing, rediscovered in 1896, that many scholars believe concerns Mary Magdalene—he said: "Why was Mary's book not included in the Bible? The stench of blatant sexism becomes, you know, inescapable."
If I find any more new interviews with the actors, I will add them to this post.