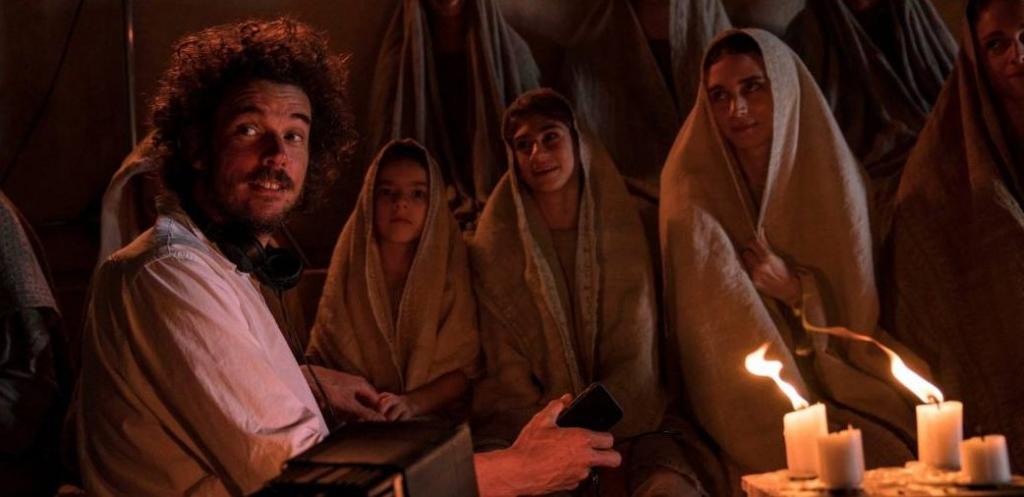 Mary Magdalene is finally coming to North American theatres this week.
I don't know if we'll be seeing any new interviews with the cast and crew of that film, but I did keep track of some of the interviews that they did last year for the film's foreign release — so I figured now would be a good time to link to all those articles and videos.
This post will focus on the interviews with director Garth Davis (who is sometimes joined in the interviews by members of his cast, particularly lead actress Rooney Mara).
I previously linked to interviews with Davis about this film in 2016, 2017 and 2018.
Since then, Davis spoke to Broadsheet in Australia:
For Davis, the story of Malala Yousafzai – the Pakistani women's-education activist who became the youngest ever Nobel Prize laureate – was a significant influence. In 2012 a Taliban gunman shot her in the head, but she survived and offered forgiveness to her assailant.

"This story is similarly celebrating forgiveness and love. Malala's a hero of mine," says Davis. "She has this light in her. When I first encountered her I thought, this woman's going to change the world. In Mary, I saw a lot of similarities. Rooney saw the same."

In 2009 a Magdala synagogue – buried for millennia – was discovered during an excavation in northern Israel. Davis visited the site while developing his film. "I had the characters in my heart and soul, and then I was there," he says. "It was a beautiful space. The mosaics and the frescos were still there." The story felt real to him.
(Side note: I have visited that synagogue in Magdala too!)
Davis spoke to The Sydney Morning Herald about his research:
"When I re-read the gospel of Mary and the gospel of Mark and started getting into the research, I realised that she was actually a really significant spiritual figure and obviously a very courageous woman to have left her family to follow her spiritual calling – just a remarkable human being.

"But when people think of Mary, they think of her as a lover. They're always sexualising her. I don't know where all those inventions come from and I don't know why women are always put into those contexts. But when you really go back and look at the gospels and look at the history, she was present in all the major elements of [Jesus'] story and had a very close relationship with him. We're just acknowledging that."
Davis spoke to QNews in Australia about his reasons for making the film:
The subject matter came to me, and I think the reason they gave it to me was because they wanted that spiritual, human telling of it. And that's what really excited me about it too, I mean I love biblical, religious movies. I always have had a secret fascination for them, so I got a little bit excited about going down this path. To be able to reveal Mary's story in a way that hasn't been told in 2000 years… I love her story, she's an exemplary spiritual figure, an amazing apostle… she reminded me of Malala, in that Malala forgave the Taliban.
Davis spoke to Stuff in New Zealand about how he cast Rooney Mara as Mary Magdalene:
"For me, Mary was someone who had this otherworldliness within her family structure. You could tell she had this spiritual calling, a spirituality that set her apart from everyone else. To do that in a way that's believable and kind of intriguing, needed qualities that I thought only a few actresses had. But having worked with Rooney [Mara) on Lion, I realised that she's a very unique actress who has this ability even in silence just to open up these worlds for the viewer. I felt she had all the qualities to bring a humanity to spirituality."
Davis spoke to the Radio Times about the charge that his film "whitewashes" Mary:
"For me, the most critical, important thing was that I made the most emotionally compelling Mary," Davis says, "and Rooney just has such a unique quality. She has an otherworldliness, and in her silences – there's no other actress like her – she just creates these universes. And all of that was just so critical in bringing to life Mary's character, so I felt that I had to choose that."
Davis also spoke to The Times of London in an interview that is behind a paywall.
Davis is also featured with Mara in some articles:
They talked to the BBC about the non-biblical tradition that Mary was a prostitute:
"To learn it was an invention of Pope Gregory was astonishing, and to learn that Mary's story had never been told in a popular way was tragic," says Davis.

"I felt that her story absolutely had to be told, and I felt even more impassioned to tell it once I knew it had been hidden for so long."
They spoke to the Eastern Daily Press in the UK:
"I am not a religious expert, and I'm not necessarily religious either, but the thing that we connected to is the spiritual message," says Garth Davis on why he chose to risk potentially controversial subject matter. "In some ways that is the message that has been lost today. The whole point is that we are taking people back to the core message of Jesus that we all have it in us. I just had to trust that. I loved the inclusiveness of Mary and telling the story through her point of view."
They also spoke to
The Australian
in an article that is currently behind a paywall.
There is also a video interview with Davis and Mara at The Telegraph.
Davis spoke to podcaster Edith Bowman about working with Icelandic composer Jóhann Jóhannsson, who died shortly after finishing his work on this film:
Davis provided a "director's commentary" for the movie's international trailer:
Davis spoke to Christian Australian radio station Hope 103.2:
Davis spoke to Film Focus about touring Israel (including many sites I visited last year!):
Davis spoke to HeyUGuys:
Davis and Mara spoke to ITN Productions in the UK:
They also spoke to Sarina Bellissimo (brief NSFW word choice alert)…
…and to Movies'n'co in the UK:
Davis, Mara and Tahar Rahim (who plays Judas) spoke to the Associated Press:
And Davis, Mara, Rahim and Chiwetel Ejiofor (Peter) spoke to the Radio Times:
There are more interview round-ups to come. Stay tuned.
April 11 update: Davis spoke to USA Today about his reasons for hiring a multiracial cast:
"The casting was an opportunity to modernize the story and make it reflect the multicultural world we're living in now," he says. "And ultimately, the most important thing for me was finding actors who captured those characters in a soulful and emotional way."
Davis spoke to WENN about shooting the exorcism scene:
The director was battling with winds as he started shooting the scene in Italy but as soon as his actors started quoting from the exorcism prayer, it was as if God had an issue with what they were doing.

"We all had a copy of one of the ancient texts as we were preparing for the scene and almost the minute we started walking into the water, the wind just stopped. Completely. There was no movement," he tells WENN. "And then lightning started breaking all around us. It freaked everyone out!

"It was an interesting moment of life mirroring art."
Davis also just received a nomination from the Australian Directors Guild Awards.
April 13 update: Davis spoke to Forbes.com:
When asked if he believes sexism has been at the heart of the avoidance in discussing Magdalene's story, he thinks beyond that. It isn't strictly that her being a woman has prohibited her story being told, but also when she is featured there's an additional sexual component. "One minute she's a prostitute and in another version she's the wife and lover of Jesus. It's like, no. We're not going to constantly sexualize these women." Davis wanted to show that Magdalene was just one of many teachers on par with the apostles, to show that women in Biblical times had some agency. He admits that, narratively, that angle might not be "as dramatic and controversial as people want, but it's revolutionary to celebrate." . . .

The hope in releasing Mary Magdalene is that it challenges audiences in an era of complacency. As Davis explains, " I think audiences today don't want to be challenged" by tough questions. He admits the film is quiet and meditative, and also to eschew typical narrative beats of the Biblical film like leading revolutions against the Romans. "This film is asking the audience to stop and to embrace and to meditate on their own gifts they have."
April 23 update: Davis and Mara also appeared on the Relevant Podcast. The 18-minute segment begins at 36:25 and includes a few phone-interview soundbites.
If I find any more new interviews with Davis, I will add them to this post.