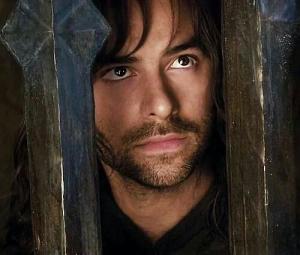 Deadline reports that Aidan Turner, the Irish actor who played Kili in the Hobbit movies (he's the dwarf who told Evangeline Lilly's elf that he could have anything down his trousers), has been cast as the apostle Andrew in Terrence Malick's The Last Planet. It was revealed a few weeks ago that Belgian actor Matthias Schoenaerts (Bullhead, Rust and Bone) is playing Andrew's brother Peter in the film.
Along the way, Deadline also reveals that the cast will include such Bible-movie veterans as Joseph Fiennes (who I interviewed when Risen came out three years ago), Douglas Booth (who played Shem in Darren Aronofsky's Noah), Tawfeek Barhom (who played James in Mary Magdalene) and Ben Kingsley (who played Potiphar in Joseph, Moses in Moses, the Narrator in the animated Ten Commandments, and Joshua's father Nun in Exodus: Gods & Kings). Their roles in the new film are currently unknown.
Other actors include Martin McCann, Ori Pfeffer, Shadi Mar'i, Makram Khoury, Numan Acar, Emilio De Marchi, Bjorn Thors, Alfonso Postiglione and Lorenzo Gioielli.
They join the already-announced Géza Röhrig, who is playing Jesus, and Mark Rylance, who is playing Satan in this film but previously played Jesus in An Incident in Judaea.