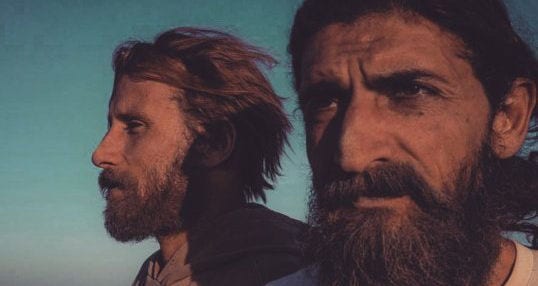 The once-notoriously-reclusive Terrence Malick went to the Vatican recently to promote A Hidden Life, his new film about a Catholic Austrian who refused to fight in Hitler's army, and along the way he spoke to reporters about his upcoming Jesus movie, The Last Planet, which he apparently just finished shooting.
The relevant quote, via La Repubblica and One Big Soul:
"We have just finished shooting, I am very happy. A few days ago we finished shooting in the desert of Jordan, a multicultural film with a cast that brings together Middle Eastern actors, a German troupe, and even Italian artists in the costumes department and set design (costume designer Carlo Poggioli and production designer Stefano Maria Ortolani). Now I go back to Texas to edit the film, it will take at least a year because we have a lot of material, and since we go digital, we end up with many more images, my favorite moment of the work is the editing, there is no longer the set pressure, the uncertainty of the weather on the shoot, I am very happy to be here at the end of this long journey, I would like to be able to stay longer in Rome. We have an early plane that takes us to Austin."
Meanwhile, Variety spoke to Moroccan producer Karim Debbagh, who was also involved with the film:
Debbagh just wrapped a three-week shoot of Terrence Malick's "The Last Planet," which he described as a highly spiritual film about the Bible with a dark genre twist. Debbagh said working with Malick was a "unique experience." He added that the film was lensed only with natural daylight. Besides Morocco, the film also shot in Israel, Malta, Turkey and Iceland, among other locations.
I am curious to see what this "dark genre twist" might be, and also to see what use the film made of Iceland, which was previously featured in Darren Aronofsky's Noah.
Meanwhile, Matthias Schoenarts, who plays the apostle Peter, posted a photo of himself in character and Géza Röhrig as Jesus to his Instagram account a few weeks ago:
As reported earlier, the cast of The Last Planet also includes Mark Rylance as Satan, Aidan Turner as Andrew, and Bible-movie veterans Joseph Fiennes, Douglas Booth, Tawfeek Barhom and Ben Kingsley, among others — though as always with Malick films, it remains to be seen which of these actors will survive the editing process.
The film's IMDb page also claims that Joseph Mawle, who played Jesus in the BBC's The Passion, is playing Saul — as in Saul of Tarsus? — and that Icelandic actor Magnús Jónsson is playing someone called Adam, which could mean that this movie will have flashbacks to the Old Testament, too. As ever, we'll just have to wait and see.