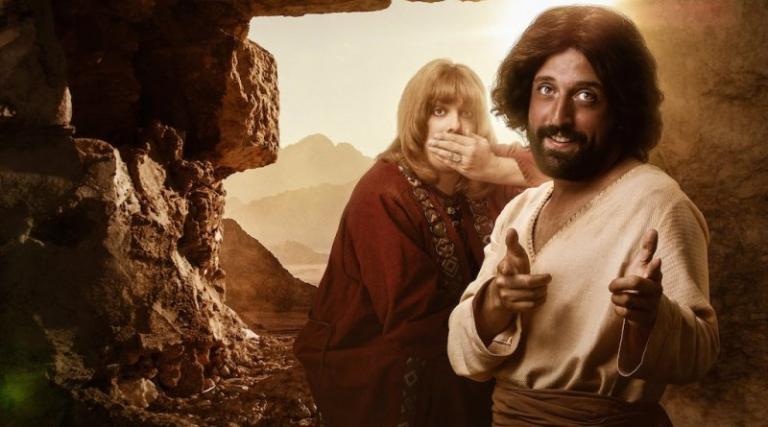 Christmas is just around the corner, and that means it's time to celebrate the story of Jesus, right? Not if you're Netflix, apparently. Yesterday the streaming service released two new videos that may have been timed to capitalize on the audience's seasonal interest in the Jesus story, but were anything but direct treatments of that story.
First, in what is becoming an annual tradition, Netflix released The First Temptation of Christ, an intentionally blasphemous (and I use that word descriptively, not pejoratively) 46-minute comedy from the same Brazilian troupe that produced last year's Last Supper parody The Last Hangover. The new film revolves around a surprise party that Mary and Joseph throw for Jesus' 30th birthday, but he surprises them when he brings home a boyfriend that he met during his 40 days in the wilderness — and things get even crazier from there. (I may or may not have more to say about this later.)
And second, Netflix finally released a trailer for Messiah, a series about a modern-day miracle worker that was greenlit over two years ago. The new series is produced by Mark Burnett and Roma Downey, so it may be aimed at the same "faith-based" audience that consumed their earlier productions like The Bible, A.D. The Bible Continues and Ben-Hur — but, based on this trailer, the series is either about a false prophet or it's got a very weird idea as to what the Second Coming will be like. (And we know that Burnett and Downey designed the Ascension sequence in A.D. The Bible Continues to resemble what they believe the Second Coming will be like.) In any case, we'll find out what's going on soon enough; the series is coming to Netflix on January 1. Here is the trailer:
Those hoping to stream a new series about Jesus himself might be more interested in The Chosen, which just released the second half of its first season for free via an app. I haven't had a chance to watch the new episodes yet but hope to say more about them in the near future. In the meantime, check out the trailer for those episodes here:
— The image at the top of this post is from The First Temptation of Christ.