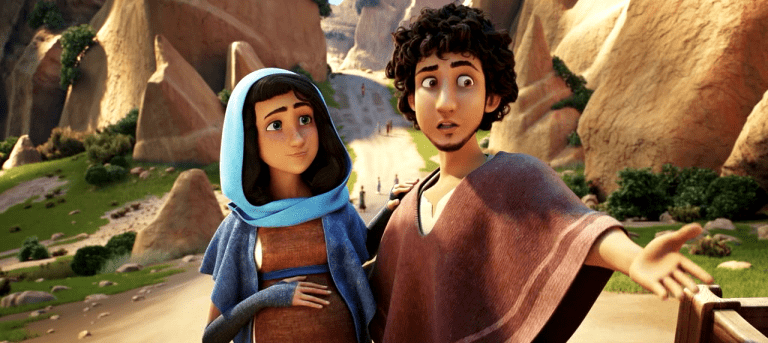 The first weekend after the American Thanksgiving is one of the slowest at the North American box office. This year, only one new film is slated for a wide release that weekend, i.e. Playmobil: The Movie, an animated film whose distributor seems to have low expectations for it, as it previously got bumped from Labour Day weekend, which is one of the other slowest weekends on the movie-release calendar.
So what better time to re-release a movie? Particularly one about Christmas?
Today Sony announced that they will be re-releasing The Star — the animated movie from two years ago that tells the story of the first Christmas from the animals' point of view — for two days only, on Saturday December 7 and Sunday December 8.
Here is the trailer that accompanied the announcement:
Incidentally, it occurs to me that I never got around to posting a couple of other videos from the film's DVD release last year. Here's the basic trailer for that release:
And here's a preview of the DVD's bonus features:
Producer DeVon Franklin spoke to EURWeb about the DVD release at the time:
For the DVD special features, Franklin is most proud of the 12 kids he spoke to about the film, saying: "it was almost like teaching a Sunday school lesson. It was great to see their reaction to the movie, what they responded to. It was amazing."

Adding, "That's really one of the featured extras that I think parents and kids are going to love because you really get a chance to see how the themes of the movie are relevant year round and you really get a chance to see how the kids are so perceptive and so much of what they see, we don't think it registers but it really does and we can have a tremendous impact."
Ten clips from the film, totaling about 27 minutes — or roughly a third of the movie's runtime — are on Fandango's MovieClips YouTube channel now, too.
Here is the Annunciation (cf. Luke 1:26-38), a scene that I wrote about here:
Here is 'Bo's Big Escape Scene':
Here is the scene in which the Magi appear before Herod the Great (cf. Matthew 2:1-8):
Here is the scene in which the bird dances to distract some dogs:
Here is the scene in which the lamb and donkey try to warn Mary and Joseph:
Here is the 'Marketplace Disaster Scene':
Here is the scene where the donkey prays:
Here is the scene where the angels appear to the shepherds (cf. Luke 2:8-11):
Here is the scene where the animals climactically confront each other:
And here is the Nativity scene (cf. Matthew 2:9-11, Luke 2:16):
Check out earlier The Star trailers and other videos here: