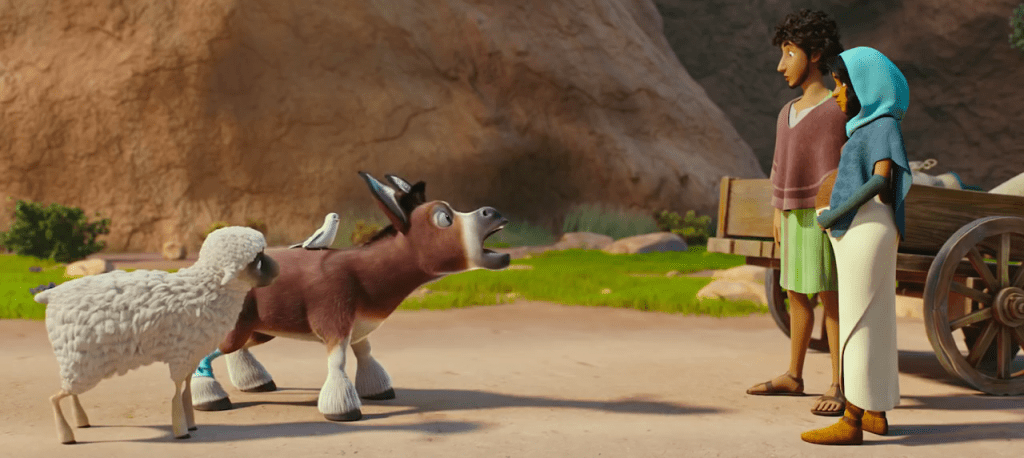 With just two weeks to go until The Star hits theatres, the studio behind the first major animated film about the Nativity has unleashed several new promotional videos, including our first full-fledged clip from the movie. At least two interviews with the filmmakers have surfaced in recent days, too. You can check it all out below.
First, the interviews.
Animation Magazine spoke to director Timothy Reckart:
"We had boxes of tapes for the movies we play every Christmas [when I was a kid], and none of those movies were actually about the birth of Jesus," says Reckart, who directed the movie and grew up in a Christian family. "It felt like an opportunity to be part of a movie that has not been done before, that's really going to fill a void." . . .

The Star is the first CG animation project for Reckart, whose previous work was in stop-motion, most notably his Oscar-nominated short Head Over Heels and as a lead animator on the indie feature Anomalisa. While Reckart loves stop-motion, he says CG was the right choice for this project. "Christmas and stop-motion have a very long history together, and I wonder if being in stop-motion might have made the movie feel smaller," he says.
The magazine also reveals that the Henson Company first started developing the script about 20 years ago, after Babe came out. Hmmm. When The Star — the protagonist of which is a donkey — was first announced, it was going to be called The Lamb, and it was going to be about a lamb. And I don't recall the Henson Company being mentioned in those early announcements. So, was The Lamb a Henson project all along? Or did The Lamb become The Star after the Hensons were brought on board? Did a script that was sitting on the Hensons' shelf replace the script that Sony had been working on?
In any case, Reckart also comments on his depiction of Joseph and Mary:
Dealing with the nativity story in a way that was respectful of its importance to Christians as well as entertaining was a big piece of the development process, Reckart says. One thing he wanted to do was give them some humanity and an openness to life indicated by Mary's willingness to accept the message from heaven that she was to carry the son of God.

"I don't think I've really seen any images of Mary laughing," he says. "But I wanted to do a Mary that laughed a lot and had a sense of humor and a real love of life."

Joseph is focused on planning and wants to make sure everything's right for his family, and learns to accept what he can't change. "That gives Joseph room to grow, room to actually learn something from Mary, which is that at some point you have to let go and kind of let God take the wheel because not everything's under your control," Reckart says.
Meanwhile, The Gospel Herald also spoke to Reckart (and producer DeVon Franklin):
While there's no shortage of classic Christmas films — from "A Charlie Brown Christmas" to "It's a Wonderful Life" — none of them are actually about the birth of Christ, Reckart said.

"None of those family-friendly, animated projects really cover that at a studio-level of quality," he said. "So, that's honestly what got me really excited about participating in this project, was to make a film that it's almost impossible to believe doesn't exist yet."
And now, the videos.
First, there is the clip, in which Bo the donkey (Steven Yuen) is tied down and tries to escape with a bit of help from Zach the goat (Anthony Anderson), Leah the singing horse (Kelly Clarkson) and Edith the cow (Patricia Heaton):
Then, there is a featurette that looks at how Steven Yuen plays Bo the donkey:
Then, a look at how Gina Rodriguez and Zachary Levi play Mary and Joseph:
And then, a look at how Aidy Bryant plays Ruth the Sheep:
I think this featurette is new-ish, too, though it overlaps with some of the others we've seen:
Finally, the out-and-out ads, including this Nutcracker-themed TV spot …
… and this other TV spot …
… and the original trailer, which has been re-posted with a new intro by Tyler Perry:
November 7 update: Here's a French version of the Nutcracker-themed TV spot:
And here's a YouTube version of the second TV spot:
Check out earlier The Star trailers and other videos here: