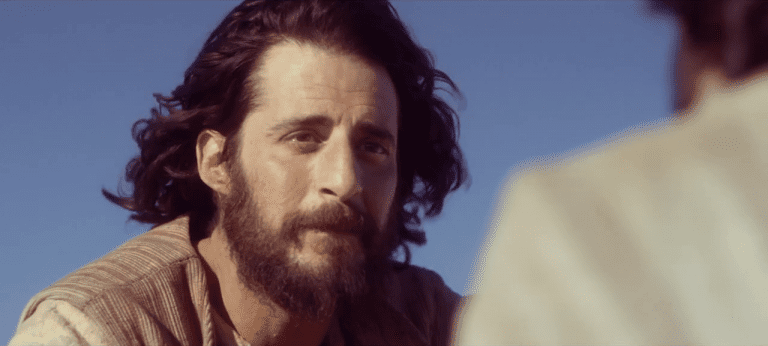 The second season of The Chosen — Dallas Jenkins' multi-season streaming series about Jesus and his disciples — now has a release date. Sort of.
In a livestreamed video last night, Jenkins announced that the first episode of season two will be released to the public at 8pm EST on Easter Sunday, April 4.
Fans who have supported the series via the "pay it forward" program — which lets people cover the show's streaming costs so that other people can watch it for free — will get to see the new episode in a private livestream one day earlier, on April 3.
The rest of season two is not yet ready to be released, said Jenkins.
However, he said each subsequent episode will come out as soon as it is completed — and while he is hoping to release an average of one episode per week, he said the gaps between the episodes could be a lot longer and/or shorter than that.
Jenkins said the series has been dealing with a number of financial and logistical hurdles, from the safety protocols forced on the show by the pandemic to the "snowpocalypse" that shut down filming for a week while the production was in Texas last month.
However, despite those hurdles, Jenkins said he is still hoping to forge ahead with season three in August or September. The Chosen is aiming to be a seven-season series overall, and Jenkins said he plans to release two seasons every year and a half.
He also estimated it will cost $100 million to produce the remaining five seasons.
Season one, which was livestreamed with cast and crew interviews near the beginning of the pandemic last April, will be coming off YouTube in the near future, said Jenkins, but he plans to do another week-long livestream of season one during the run-up to the launch date for season two. So it will basically take place during Holy Week.
After that, the ultimate goal is to get people to watch the show on its dedicated app.
Unlike some of the other livestreams Jenkins has done recently, there were no new clips from the series this time. But Jenkins did reveal that episode six or seven of the new season will feature "a big-time Old Testament character", similar to how two episodes in the first season began with prologues featuring Jacob and Moses and Joshua.
You can watch the livestream in which Jenkins made the announcement below:
–
The Chosen can be streamed in full via VidAngel or the show's app (Android | Apple). You can also watch behind-the-scenes videos at The Chosen's official YouTube channel.
Season one recaps: zero | one | two | three | four | five | six | seven | eight