For the Fame of His Name: Rethinking Church and Missions for the 21st Century is a new book by cross-cultural missions trainer G. W. Steel.
I first met GW at my SCRIBE Authors Training in Orlando (the training has since moved to an online training that anyone can take from the comfort of their own home).
Steel pastored churches in the Midwest for many years before moving to SE Asia. He lived there for over a decade, training mission candidates and mentoring field workers. He has been involved with global missions for nearly 40 years.
I caught up with him recently to discuss his book. 
Enjoy!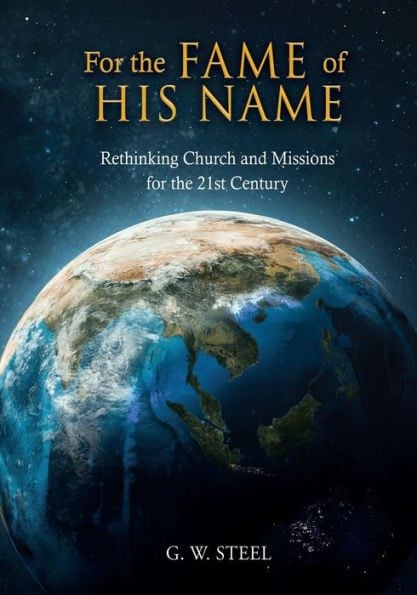 GW, nice to connect with you again. Congratulations on the release of your new book. Share with us the basic message of, For the Fame of His Name.
Thanks, Frank. Yea… the message of, For the Fame of His Name is revealed in the title. I believe we can only understand the Church and her mission within the bigger context of God's eternal purpose… His revealed plan for earth and heaven.
You have spoken extensively on this topic. The Bible tells us that God has always determined to exalt His Son and establish His renown… or, could I say, fame through a holy, redeemed and transformed people where King Jesus is preeminent and manifestly present.
Yet there are still church and mission leaders today who don't have this divine, eternal perspective. And there are still many people groups who haven't heard that they are invited into God's awesome plans.
That's great, GW. But how does your subtitle, Rethinking Church and Missions for the 21st Century, connect to God's eternal purpose?
Right, the subtitle sums up my appeal for the Church to take a serious look at what we're doing in light of this eternal purpose… especially in how it shapes our ministry goals and perception of our mission. Over decades of involvement with Christian missions, I observed that in many circles, including my own, mission is framed as a task God gave the Church to accomplish.
Sure, we pray and ask God for His interventions, but it's mostly about us fulfilling our vision and implementing our strategies. Moreover, we usually evaluate this work by natural metrics like the number of conversions, churches planted and money raised.
But in examining this model, I discovered that it is profoundly unbiblical. Mission is not a task to finish but a partnership with the risen, eternal Son to fulfill His desires for the world He created and redeemed. Thus, I am urging my readers to rethink the whole church and missions enterprise and realign ourselves with the original message and ministry of Jesus, our beloved Bridegroom King.
Fascinating… I love it. So, why did you write the book, and who is it for?
Oddly enough, I wrote this book primarily for myself. I've always been an avid learner and needed a place to process my life experiences and discoveries related to my work as a pastor and mission trainer.
Along the way, I met other leaders asking the same tough questions about why and how the Church should be doing mission work. It's telling to me that the recent Lausanne Asia 2022 Congress held in Bangkok carried the theme, "Rethinking Church and Mission: God's Agenda for Today."
So, it looks like I'm not the only one calling for an honest evaluation.
I believe any Christian leader can benefit from reading the book, but I'm specifically addressing those trying to engage unreached, unevangelized peoples in the hard places.
My book is written for 21st-century church and mission leaders who are aware that a paradigm shift is happening in the whole arena of cross-cultural missions.
This shift is God-breathed and will bring the focus back on Jesus and the supremacy of His Kingdom. I have to say, though, it's a pretty dense book, so it may not appeal to the casual reader.
GW, how would you say your book differs from other similar books? What value are you adding to the conversation?
You know Frank, there are many great books available that inspire and equip mission leaders and aspiring missionaries. But that's not my primary goal.
As mentioned, my message calls us to rethink our fundamental assumptions and look at the Church and mission through new eyes. The thing that sets, For the Fame of His Name apart is this core premise: Mission is not ours to define or figure out.
Wait… what do you mean by that?
Well, in reading my Bible, I discovered that there is a God, sovereign in the universe, who is the originator, scriptwriter, producer and central player in unfolding His eternal purpose. He already has a "mission" that He set in motion before the foundation of the world.
This divine plan preempts all our organizational vision statements and ministry goals. In John chapter 5, Jesus said, "My Father is always working… and I am working." So, I began to wonder, what were Jesus and the Father working on… what was their main mission… what was Jesus sent to accomplish?
Then in John 20, He said, "As the Father sent me, so I send you." Thus, it seems to me that our mission is to recognize what God is doing in our little corner and then join Him by doing the part He asked us to do, just as His beloved Son did.
Wow, that idea will certainly shake up the mission world. But I'm curious… your book is over 400 pages. Why did it take so long for you to explain such a simple concept?
Ha-ha… yea, that's a fair question. As I was observing and processing 40 years of mission involvement, I realized that much of what we… that is, the global Church, were trying to do, was not necessarily based purely on the Bible but on our diverse and sometimes conflicting historical and theological foundations. And I saw how our unique histories and theologies have formed our denominational identities.
Probing these issues led me into deeper waters as I was forced to examine my own theological concepts against what Jesus meant by the gospel, the Kingdom, mission and even the Church. I found major discrepancies between my inherited religious views and what Jesus and the apostles actually taught and practiced. Others on this quest have come to similar conclusions, and I quote some of their stories in the book.
So, my appeal is for us… again, the collective us, to build, not on our group's brand or historical precedent, but rather on the original precedent found in the New Testament as seen through the lives of Jesus and those first disciples.
In other words, what did they think they were supposed to do, and how did they go about doing it? I'm proposing that we go back to that point in history and figure out how we can do the same thing in our generation. Unpacking these points took a few extra chapters.
Also, in the second half of the book, I address some practical stuff that can help us do our part more intentionally and fruitfully, like the role of business, cross-cultural communication, contextualization and effective candidate training. The book is full of Scripture, history and fascinating case studies from around the world.
You mentioned you had some questions… what are the questions you are trying to answer? 
This book represents my best attempt at returning to the basics and finding answers to the questions we all should be asking. I'm not sure everyone will like my answers, but here are the key issues.
~ What exactly did Jesus teach and expect His followers to do?
~ What was His core message?
~ What is the Church's core mission?
~ How can this mission be successful in the unreached regions of this post-Christian, multi-cultural world?
~ And, what kind of people are suitable for this mission, and what skills do they need?
Those are some weighty questions. So, can you give us a sneak preview… what are some of the key points you discovered?
Frank, as you know, launching projects to accomplish ministry goals has been the Church's tried-and-true approach. But because of our rapidly changing world, this approach is proving increasingly expensive and unworkable, especially in countries closed to Christian work.
So, if we are to see the world filled with the glory of God and the fame of His name―as He promised He would do―we must assess our motives, redefine our goals and be willing to learn and employ new approaches and strategies.
A few key theological points are:
God has an eternal purpose that, when understood, totally reframes our ministry objectives.
This purpose is not about fulfilling a mission but about Him openly revealing Himself through establishing His Kingdom.. or, can I say, His reign on earth.
The gospel, rightly understood, announces the arrival of that Kingdom and calls all into allegiance to King Jesus. It's not an invitation to become a Christian or join a particular church. Your book, Insurgence, brilliantly addresses this much-needed correction.
The key applications are:
Jesus' mandate is, proclaim the gospel of the Kingdom (Matthew 24:14) and make disciples (Matthew 28:18-20) who openly love, worship and obey Him so that His supreme worthiness is made known.
The true Church (ekklesia) is something Jesus builds and spontaneously emerges as He gathers His loyal disciples into a community where He is honored as the functioning Head.
Those partnering with God in His cross-cultural work require apostolic gifts and focused training in this Christ-centered Kingdom paradigm. They also need to understand relevant cultural issues, depending on where they're going. Then the Church can send truly gifted apostles who can accurately represent Jesus and carry on His work.
Basically, I discovered that if we do our part―proclaim His Kingdom and make disciples in all nations―He will do His part, build His ekklesia and reveal the fame of His name across the whole earth.
That's some great stuff. Share with us some feedback you have received about the book.
Well… it's hot off the press, so not many have seen it yet. But those who have said the book presents inspiring vision, sound theology and practical guidance.
One megachurch pastor and seminary chair said it is a "breathtakingly comprehensive, thoughtful and practical contribution to the theology and praxis of Christian mission today."
A respected mission leader said, "For the Fame of His Name is an enlightening, encouraging, yet deeply provoking book. It provides biblical insights that debunk traditional views and offers a fresh approach to the Great Commission."
Finally, "This book is for everyone serious about the authentic gospel of the Kingdom filling the earth and the glory of Christ in His ekklesia."
How can people connect with you and further engage with the message of your book?  
Anyone interested in joining the conversation can participate by clicking: facebook.com/AuthorG.W.Steel
You can also contact me at: AuthorGWSteel@gmail.com
Where can readers get the book?  
You can buy For the Fame of His Name online here. The eBook is available on Amazon, Barnes & Noble, and other online booksellers along with the print versions. 
Well, that about wraps it up. Thanks for sharing with us, GW.
I hope your new book finds a ready audience and flies off the shelves!