The Daily Decree: Bringing Your Day Into Alignment with God's Prophetic Destiny is a fairly new book by Brenda Kunneman.
The book is small, and the chapters are short and easy to read.
Each chapter begins with a positive declaration based on a scripture text.
Here's an example:
YOUR ENERGY IS RENEWED!
"Today, in the spirit of divine agreement, we decree that your youth is being renewed like the eagle's."
The decree fills just one page. The next page has a Scripture and a word of encouragement.
So each decree is two-pages long.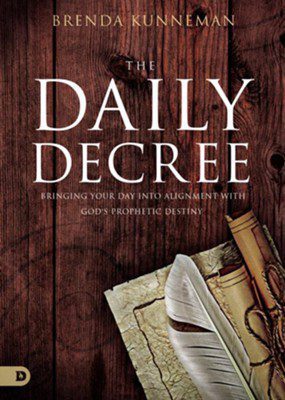 If you're not a charismatic or you have never been part of that tribe, the wording and language may seem odd to you. ("Prophetic destiny," for instance.)
Regardless, to my mind, the book is the charismatic equivalent of Jesus Calling. And for the millions of people who like that book (mostly women), this book should be put along side of it.
The author describes The Daily Decree as a collection of biblically based declarations that you can speak over your life.
They are a form of praying and speaking God's word at the same time.
The book is compact and the cover design appealing.
Here's the publisher's description.
Proclaim the words of the Lord!
There are words from Heaven that the King of kings wants you to decree! Like Jesus, believers must listen for the Father's voice and declare what He has spoken. When you boldly decree God's word, your words are saturated in the supernatural life and creative power of the Kingdom!
Respected prophetic voice Brenda Kunneman has compiled a series of powerful decrees that were birthed in the heart of God, shared with her, and now imparted to you. These legal decrees will empower you with tools to overcome impossibilities, position you for new levels of blessing, and prepare you for supernatural encounters.
In the Daily Decree, you will receive:
Confessions that release blessing: Decrees backed by Scripture that you can confess boldly!
Declarations that unlock breakthrough: Prophetic words that will help you overcome specific adversities of life.
Proclamations that unleash destiny: Points of agreement between you and God, that allow you to prophetically announce what He is saying about your life and future.
Declare the words of the King, and claim His promises today!