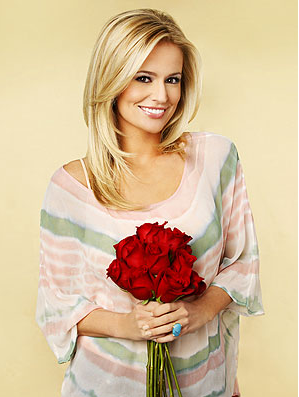 Fans of The Bachelorette know what to expect: helicopters, luxurious dates, hot tubs, and lots and lots of making out. But those who have tuned in this season have seen a very different bachelorette.
Emily Maynard, first and foremost, is a single mom.  Her race-car driver fiance, Ricky Hendrick was killed in a plane crash just days before she discovered she was pregnant.  Now her daughter is 6-years-old, and Ricki is the center of her life.  In fact, she wouldn't agree to leave her daughter to film the show in California.
The producers' solution?  They moved the show to Ricki.
Sure the house is still a beautiful mansion — six-bedroom, 8.5-baths – it just happens to be located in Charlotte, North Carolina.
So far, the exotic dates have been a little less luxurious than the Los Angeles/Hollywood variety.  One bachelor's one-on-one date required him to unload Emily's groceries and make cookies for Ricki's soccer team.  Another date was a jet ride to…  West Virginia? Yes, to The Greenbriar, but still.  West Virginia.  One group date featured Jim Henson's Muppets, in a family friendly show that raised over $20,000 for the Levine Children's Hospital.  Teasers for future episodes show them traveling to Dollywood – with a visit from Dolly herself!
In other words, this is no normal season of The Bachelorette.  And there's an even bigger difference.  Recently on a conference call with reporters, Emily said she would not be jumping into those ubiquitous hot tubs, thank you very much.
Meeting her 25 sexy suitors on Monday's premiere, Maynard, 26, has pledged to "live in the moment" with each potential love match — all while maintaining her modesty and Southern charm, of course. "I wouldn't get into a hot tub with a guy on the first date in my normal everyday life," Maynard reasoned to reporters during a Thursday conference call, "So I sure as hell am not going to do it on The Bachelorette!"
Emily has shown that she is taking this process very seriously.  She even sent home Joe-the-Biology-Teacher because he completely botched his answer to her "where do you see yourself in five years" question.
(Joe, "I want to see myself with no regrets and happy?"  Seriously?
Psssst: remaining bachelors, the answer is "taking a bunch of kids to Chuck-E-Cheese in my new Honda Odyssey.")
I don't remember any Bachelorette sending home someone so soon.
When she returned back to the Charlotte mansion for the rose ceremony, she explained to the remaining gentlemen.  "I'm taking this seriously."
After the worst finale in Bachelor history, perhaps the producers and fans will welcome this new direction.   And maybe — just maybe — Emily will find true love!
Related "Bachelor" Stories:
Who's Your Favorite on The Bachelorette, and What Happened to Jef's Other "F?"
Conservative Christian Parents Finally Refuse to Give Blessing to Bachelor
Ben and Courtney: The Worst Finale in the History of Bachelor Finales?