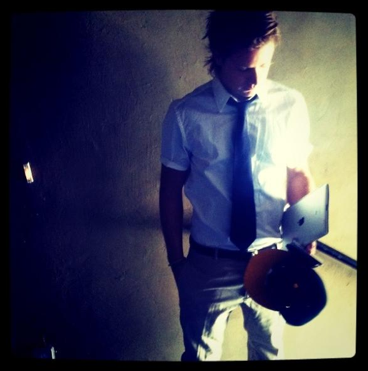 So, before Monday's episode of The Bachelorette, I'd love to know your favorite guys.  Too early, you say?  Nonsense.  The chemistry exists or it doesn't. Right, Joe-the-Biology-Teacher?
My favorite so far is Jef Holm.  Yes, Jef, with the annoyingly abbreviated name.  Is another "f" just too much effort?  Did his parents believe in "letter economy?"  Is it some sort of hipster affectation?  Did he lop off the last consonant and donate it to charity?  The first two episodes have not shed light on his name, but they have hinted he might be down on one knee in the finale.
Why?
1. He Keeps It Real:
He has indicated that he doesn't not like the ostentatious, showy romance. (We're looking at you, Luxury Goods Advisor Kalon).
2. He's Service-Minded:
Jef co-founded People Water, a successful, sustainable water bottle company with this tag line: "For every bottle of water purchased we give an equal amount of clean water to a person in need."
3. He Lives In Utah
Jef lives in Pleasant Grove, Utah, close to Salt Lake City and graduated from Utah Valley University. So does that mean he's a Mormon? Not to stereotype about people who live in Utah, but… WetPaint reports that both of his parents are LDS, and he possibly is too. If he is LDS, then he might also want a house full of kids, and fast!
4. He's Too Cool for School
You already knew he was a hipster, but I find his skinny jeans less annoying than Ryan-the-professional-sports-trainer-from-Atlanta's highly gelled hair. (WetPaint also found this this super-filtered pic of Jef!)  But will Emily go for someone who's "cooler" than she is?
Check out this unaired video of Jef teaching Emily to skateboard!

Related "Bachelor" Stories:
Southern Bachelorette Says No to Hot Tub Kissing Scenes
Conservative Christian Parents Finally Refuse to Give Blessing to Bachelor
Ben and Courtney: The Worst Finale in the History of Bachelor Finales?