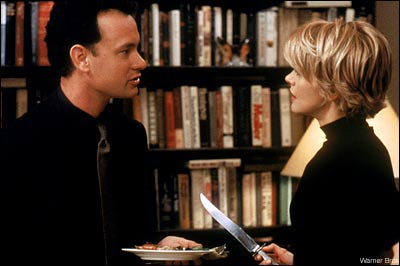 What girl wouldn't want a guy to stammer in a fit of love, "You had me at hello!"
Of course, that would only be nice if Tom Cruise hadn't already said that to Renee Zellweger in Jerry Maguire. There's something about its lack of originality that takes away the sentiment. Well, US Magazine reports Bachelorette Emily Maynard dumped Sean Lowe last week, using a recycled line from "You've Got Mail:"
Giving Sean Lowe the boot on Monday's episode in Curacao, single mom Maynard, 26, drew inspiration from the 1998 flick You've Got Mail when kicking him to the curb. "I want you to know that I wanted it to be you so bad," Maynard told the 28-year-old insurance agent. "I'm really going to miss you and I've loved every minute together. Thank you for everything."

If her first line sounded familiar, that's because it was the same bit of dialogue Meg Ryan's character Kathleen Kelly uttered to Tom Hanks in Nora Ephron's You've Got Mail. "I wanted it to be you… I wanted it to be you so badly," Kathleen told Hanks' Joe Fox when finding out the mystery man she fell in love with online was indeed Fox.
Sure, it could've been a coincidence. But that's probably small consolation to poor Sean.
Note, however, there's one small difference between the two quotations. Go ahead. Look back. What is it?
Now, read "The Bachelorette: Where Grammar Goes to Die."
You might also enjoy these Bachelor-related articles:
Sean Lowe: My Faith in Jesus Helped Me Get Over Heartbreak Over Emily
Did Jef Quote the Book of Mormon when Turning Down Overnight Date?
Religion on The Bachelorette: It's There, But Just Below the Surface
Mormons Create "The Mormon Bachelor"
Jef Holm: I'm Not a Practicing Mormon
The Bachelorette: I Won't Shack Up Before Marriage
Connect with Me Further by:
Friending me on Facebook
Following me on Twitter