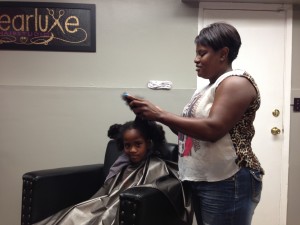 As I've mentioned before, hair has been a challenge in our trans-racial adoption of our five year old daughter Naomi. When we got her — three years ago — her head had been shaved clean, giving us a honeymoon period during which time her hair was short, cute, and growing out. This gave me time to learn how to do certain styles, and deal with criticism. As you might know, hair in the African American community is a Big. Deal. Consequently, I learned how to do bantu knots, twists, and braids. Eventually, though, she needed a trim… a task that was way beyond my newfound abilities.
After googling "African American hair natural Nashville," I came up with many hits, but none looked like the right spot. When I spotted a lady in the mall with hair very similar to my daughter's, I asked her where she gets her hair done.
"My cousin is a natural hair stylist," she responded.
Yesterday, we went to see her cousin Jessica at ShearLuxe Salon in downtown Nashville. We were a little apprehensive, because we've heard stories about how long it takes for little girls to get their hair done at salons (I'm talking four to six hours) and heard that it could be very painful. We prepared Naomi for the experience by telling her about what it would be like and letting her see photos of her stylist in advance.
Jessica Watkins was very helpful, nice, and comforting. She also knew when to tell us — gently – that she needed some space. Here's a narrative of Naomi's first non-orphanage hair cut.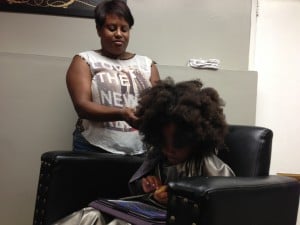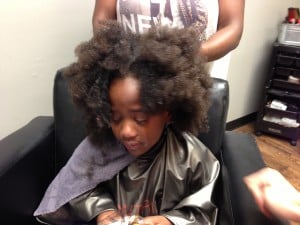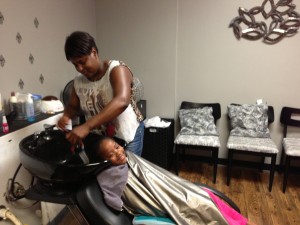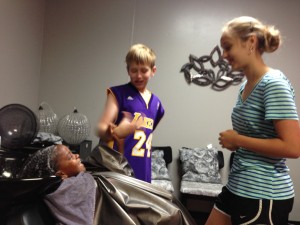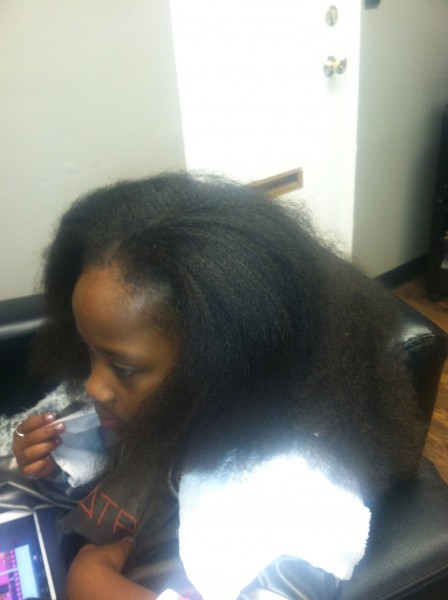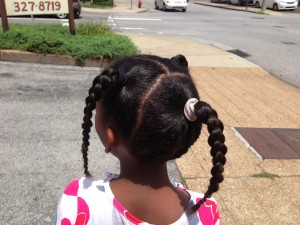 Overall, it was a great experience and Jessica at ShearLuxe was wonderful and wise.
Naomi loved her hair so much she said, "When can we come back?"
Just as soon as my heart recovers, baby.
(Yes, this post would've better been titled, "What a Stylist Did to my Black Daughter's Hair," but I wanted to keep the series all the same!)
You might also enjoy:
What this White Mother Did to Her Black Daughter's Hair: Bantu Knots
What this White Mother Did to Her Black Daughter's Hair: Beads and Braids
I'm a White Republican Raising a Black Child: Deal with It
Politics and Adoption: Following Up
Dear Black Women, Please Stop Giving Me Advice About My African Daughter's Hair
Update on the Target Cashier Who Criticized my Black Daughter's Hair