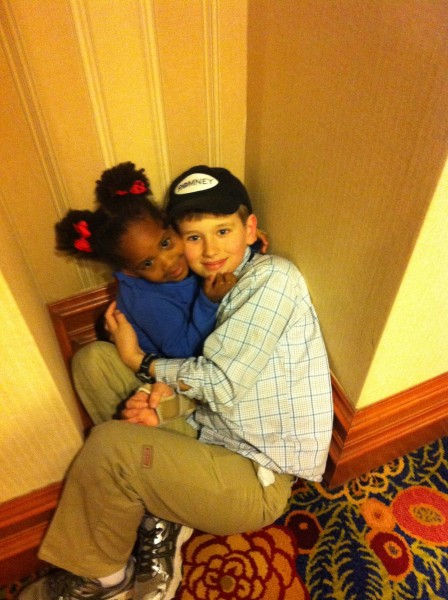 Nancy wrote her post last week in part because she was angry.  We're not important in the world of politics, but — as she mentioned — we are "out there" in the public eye on occasion.  We have the privilege of writing for widely-read websites, have publicly supported Mitt Romney for more than six years, and I've been involved in numerous legal battles over the First Amendment and abortion while Nancy has worked closely with Bristol Palin.  So we're pretty darn familiar with the wild and wooly world of Internet hate — where there is no comment too vile, no statement too outrageous, and no conspiracy theory too wild . . . so long as it's directed at your political opponents.
And believe me when I say that we've gotten hate from more than one side. During our years supporting Mitt Romney as "Evangelicals for Mitt," we've had our Christianity questioned, our conservatism mocked, and my job threatened.  On one occasion we even received a telephoned physical threat.
My experience with hate from the Left goes back further.  In 1991 — as a first-year law student at Harvard — I wrote a letter to my fellow students describing how they could get a refund of a portion of their health services fee if they had a conscientious objection to abortion.  In response, a few fellow students wrote delightful comments like, "Die, you f**king fascist!" or "Why don't you go die!"  Keep in mind these comments came from students at (arguably) America's most "elite" law school.
To top all those stories, I even received a direct threat from al Qaeda.  Yes, you read that correctly.  I was in Iraq during my deployment, and I stupidly forgot to take off my name tape while working with detainees.  We released the detainees because of insufficient evidence.  Two nights later I was Skyping with Nancy, and I got a direct Skype message in Arabic.  I took it to our intel shop, and they translated it as a threat to behead me for supporting the "Sons of Iraq" (local friendly militias that helped turn the tide during the Surge).  It was a chilling moment, but not all that frightening since a lot would have to go wrong (like the total defeat of our armored cavalry squadron) for al Qaeda to actually capture me.
That's a long (very long) way of saying that we're used to hate.  In fact, while it hurt initially (especially the "friendly fire" from other Christians), we've grown quite thick-skinned.  In hindsight, perhaps too thick-skinned.  Perhaps we left too much pass without a response.
Then we adopted Naomi.  For those who have not adopted, it's difficult to fully communicate the immediate intensity of the connection.  I remember looking at her sleeping in her crib the night we arrived back in America and feeling indescribably blessed — the same feeling I had with our older, biological kids (just with more jet lag).  And she is one incredible, joy-filled little girl.  Healthy (one cold in two years), growing like a weed (six inches last year!), and in love with every member of her family, I grow more thankful for Naomi every day.  She is a light of our lives, and we pray every night for the strength and wisdom to be the parents God intends for us to be.
When Nancy and I travel together, the kids are usually by our sides.  Six years ago we organized a pro-Mitt Romney effort at the Memphis Southern Republican Leadership Conference.  We intended for our (then) two kids to stay home, but Austin got pink eye, and it would have been rude for him to stay with his friend.  So we took him and we took Camille, and they had the time of their lives.  They wore Romney t-shirts, handed out Romney buttons, and posed for media pictures.  They got to hear speeches from leading national figures and experienced a great triumph and "big surprise" as Mitt beat all expectations and finished second in the straw poll.  It was a wonderful time, and that clinched it — when we go to political events, so do the kids.
They went with us to "Values Voters" in 2007 and to the Southern Republican Leadership Conference again in 2010 (two months before we brought Naomi home), and then we brought all three kids to CPAC 2012.  That's where the Huffington Post briefly interviewed Nancy, and she showed off Naomi's funny (at least I thought it was funny) little t-shirt.  By now all three kids have heard me speak so many times they can almost recite my lines by heart.
But while our kids had always been involved in our lives — and Nancy had written about them extensively in blog posts (she's a memoirist and editor of Patheos's faith and family portal) — we began to experience a different kid of hate after we adopted.  In her post, Nancy pointed out the Huffpo story only because it's one-stop shopping for examples of the kinds of comments we've gotten elsewhere.  But we largely ignored those comments (the Huffpo piece was several months ago, after all) when they were on internet comment boards.  After all, we try to follow the internet conventional wisdom of "don't feed the troll."
Then the personal messages started to arrive.  Nancy's post was motivated not by the Huffington Post but by a Facebook message aggressively questioning her ability as a white conservative to raise a black child.  The personal messages were more intrusive, more disturbing, and — ultimately — enraging.  The personal messages weren't mere venting at a political opponent but also came from a mindset, a hateful dangerous mindset, that not only dehumanizes political opponents but also exemplifies a thoroughly unbiblical identity group-based world view that is in its own way as vile and race-based as its skinhead alternative — only it gets a respectful hearing in the academy and other leftist bastions.
That's when the calculus of response changed.  It no longer seemed right to ignore the hate, to pretend that it doesn't exist, and go about our lives.  Sometimes you just have to push back, to expose the intellectual and spiritual bankruptcy of vile ideas, and impose at least some small cost on those who would question a mother's bond with her child based merely on race and politics.
Here are the bottom-line facts: During years of activism prior to adoption, no one questioned our suitability to raise our biological children.  But we treat Naomi exactly the way we treat Camille and Austin and we get hateful messages claiming that we can't raise her, threatening to call child protective services, and accusing us of actually adopting her as some kind of perverse trophy or symbol.  Why do they single out Naomi?  On reason: her race.  You're asking too much of a mother if you're asking her to ignore that kind of hate.  So Nancy was angry, she wrote an angry post, and I agree with every syllable.
From the foundations of the Earth, a sovereign God ordained his people, gave us our very lives, and established our family.  Naomi is our daughter through an act of God's immeasurable grace, and no amount of racism will break a bond that God has forged.
Read more on the Faith and Family Channel
What It Was Like to Co-Write Bristol Palin's Memoir