Ashley Madison is a website created specifically for married people to find new lovers — their motto is "Life is short. Have an affair." — claiming to have 38,920,000 anonymous members.
Not anymore:
Hackers who stole sensitive customer information from the cheating site AshleyMadison.com appear to have made good on their threat to post the data online.

A data dump, 9.7 gigabytes in size, was posted on Tuesday to the dark web using an Onion address accessible only through the Tor browser. The files appear to include account details and log-ins for some 32 million users of the social networking site, touted as the premier site for married individuals seeking partners for affairs. Seven years worth of credit card and other payment transaction details are also part of the dump, going back to 2008. The data, which amounts to millions of payment transactions, includes names, street address, email address and amount paid, but not credit card numbers; instead it includes four digits for each transaction that may be the last four digits of the credit card or simply a transaction ID unique to each charge. AshleyMadison.com claimed to have nearly 40 million users at the time of the breach about a month ago, all apparently in the market for clandestine hookups.
Immediately, the press began weeding through all of the material to find out who exactly is using this site… and if there were any juicy names from Hollywood or DC. (My husband and I discussed the possibility of names being planted into the database to embarrass or shame people who never actually used the site but would never be able to prove otherwise.) Nevertheless, reporters have combed through the data and guess who allegedly the first "celebrity" Ashley Madison account holder is?
Josh Duggar.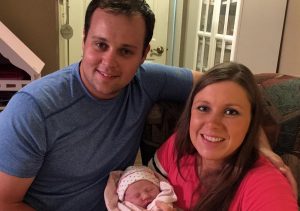 Yep, the former "family values" advocate (famous for being one of TLC's 19 Kids and Counting children) resigned from his position as head of the Family Research Council when it was revealed that he molested young girls (four of whom were his sisters). He and his family insisted Josh had changed, and his defenders said that Duggar was "too young" to be held accountable for his actions so many years ago.
"You can stop defending him because he was 'just a kid,'" Perez Hilton just wrote, "because he's a terrible person as an adult as well."
Also, Gawker reports:
In 2013, conservative reality TV star Josh Duggar—of TLC's 19 Kids and Counting fame—was named the executive director of the Family Research Council, a conservative lobbying group in D.C. which seeks "to champion marriage and family as the foundation of civilization, the seedbed of virtue, and the wellspring of society." During that time, he also maintained a paid account on Ashley Madison, a web site created for the express purpose of cheating on your spouse.
Here's what pointed to Duggar:
Someone using a credit card belonging to a Joshua J. Duggar, with a billing address that matches the home in Fayetteville, Arkansas owned by his grandmother Mary—a home that was consistently shown on their now-cancelled TV show, and in which Anna Duggar gave birth to her first child—paid a total of $986.76 for two different monthly Ashley Madison subscriptions from February of 2013 until May of 2015.
(See this article for other details of his account to determine for yourself if this was actually Duggar. Warning: you will also learn that Duggar's profile allegedly advertised that he was "Open to Experimentation," "Gentleness," "Good With Your Hands," Sensual Massage," "Extended Foreplay/Teasing," "Bubble Bath for 2," and so forth.) He reportedly also had another account linked to his Maryland home, which had a $250 "affair guarantee."
No word on whether he got his money back, but this cannot be welcomed news for the former "family values" advocate.
Read more on the Patheos Faith and Family Channel, follow Nancy on Facebook, Twitter, and Instagram!