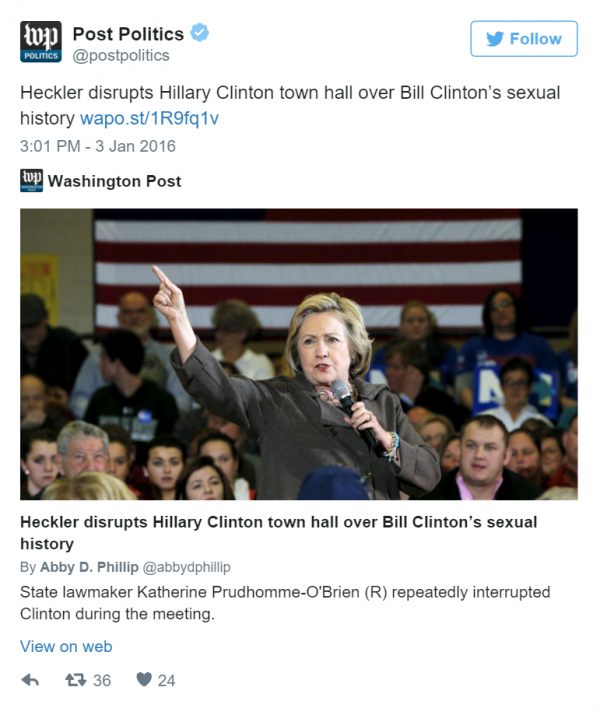 She's at it again.  The Unquestionable Hillary Clinton shut down the New Hampshire State Rep. Katherine Prudhomme-O'Brien when she attempted to ask about allegations against Bill. At this small town hall meeting, Katherine Prudhomme-O'Brien tried to ask Hillary about Bill Clinton's allegations of rape against him.
"I know I was obnoxious," she said. "I was just trying to be no more obnoxious than I needed to be. I wouldn't get that message out if I was trying to be polite."

In an interview with CNN on Sunday night, Prudhomme-O'Brien said she herself was a victim of rape and she was asking about Juanita Broaddrick's allegations of rape against Bill Clinton. 
This had her labeled "heckler" by Hillary's media hounds.
WATCH: @HillaryClinton shuts down heckler: "You are very rude, and I am not going to ever call on you." https://t.co/fJns50eKv6

— ABC News Politics (@ABCPolitics) January 3, 2016

The response pro-Prudhomme-O'Brien went viral:
@postpolitics @washingtonpost everyone deserves to be heard right? Oh, only in certain situations. Otherwise they are a heckler. Got it. — Do what now? (@t0eknife) January 3, 2016
Heckler disrupts? Why do you hate women so? https://t.co/1K7wbyP1LZ

— The John Petruna ™ (@jgpetruna) January 3, 2016
Woman speaks up against sexual assault. Branded a heckler and disrupter by Washington Post https://t.co/uZtVTXbIpI

— Stephen Miller (@redsteeze) January 3, 2016
As for Mrs. Clinton, it must be nice when the Main Stream Media carries your water and dismisses your critics for you.
Order my next three books on Amazon:
X
Read more on the Patheos Faith and Family Channel, follow Nancy on Facebook, Twitter, and Instagram!