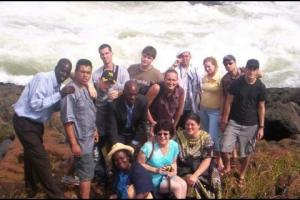 My Beginning with Nicholas
I remember the day I first saw Nicholas, this young Hispanic kid with braces and acne. He was my height, about 5'7″ and a little stocky. He was likable and enjoyed laughter. We had opened up our home to a couple of teenagers on a Monday evening and within three weeks we had over fifty. I would cook a pan of my special soft and gooey brownies, which turned into two pans rather quickly, and then we served nacho chips, cheese and cool aide. It was a recipe for success.
We would let them play video games, horse around in the backyard, and then we would take about thirty minutes out of the evening for a moral lesson. They loved it and word spread quickly. The amazing thing was that it didn't matter about race or culture, these kids didn't have walls. Many of them came from broken homes, drugs and broken families. We loved them all the same. There were times things got hairy, but we dealt with it and managed to never call the police or had them called on us.
He Showed Up
Nicholas came to my house because of a girl named Kelly. On my couch, he accepted Christ in the only way I knew back then, through a "sinners prayer". We accepted him into the fold and over the months I got to know how very brilliant this young man was. His mind was very clever, and he would often say things that surprised me. Once, Nicholas found an Asian band that performed in diapers. He sent them into Jimmy Kimmel and the man actually brought them on his show and gave Nick credit for the connection. It wasn't long until Nicholas had set his sights on a young woman named Pam. Pam came from a poor home with parents that struggled greatly. She was bashful, like her older sister and would run away from me when I tried to engage her. Nicholas was fixated on Pam and before long they were sleeping together.
Nicholas gave me a necklace once(see the picture below). It was a precious gift and I still have it. I don't even know where he bought it or the history behind it but I treasure it now. That necklace is part of my chest of memories that I will probably tell my grand children about one day.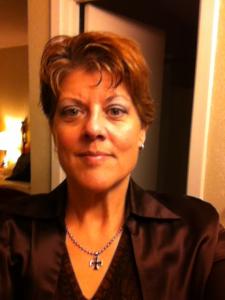 Talking Hell and Suicide
Once, when Nicholas and I were talking, he told me a story about his best friend. Kyle and Nicholas were two peas in a pod and would often get into trouble. They broke windows and strong armed people for money. They probably were headed for jail had they continued their petty crimes together. I know that Nicholas loved him dearly. In September 2005, Kyle committed suicide. Nicholas had stayed away from God because everyone had told him people who kill themselves go to Hell. Nicholas figured if his best friend was in Hell than that's the place he wanted to be. This was the reason he said that he stayed out of church. I gave Nicholas a new narrative when he shared his story with me.
The Story Changes
I told him about Martin Luther, the monk who started the Reformation. Martin had gone into a village and shortly after his installment there learned of a young man who had hung himself. At the time, the Catholic church forbade bodies of those that had committed suicide to be buried in the same cemetery with the saints. They said that the dead would not rest with someone laying there that was obviously in Hell.
Martin objected to this tradition and took the boy to the cemetery to bury him. When the people objected, Martin corrected them by saying, "How is this boy any more to blame for the depression that overtook him than a man who is overtaken by a robber and slain in the woods?" I watched Nicholas embrace this new truth as tears fell down his face. He suddenly was able to believe that Kyle was in Heaven waiting for him and not being tortured by an angry God in Hell. Nicholas was begging to believe in a God of love.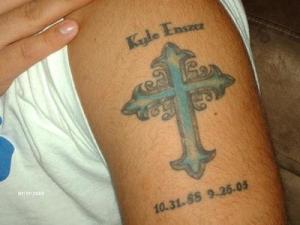 12 People Go To Africa
About that time, I began working toward a conference in Uganda, East Africa. Our little gathering raised well over thirty thousand dollars and paid for the entire conference as well as the tickets for six adults and six teenagers. We packed up 26 large boxes full of materials and got special permission from British Airways to have additional vouchers. It was a huge undertaking. I was nudged by a man in California to start the process. His involvement from there was minimal. Nicholas had a ticket that was purchased for him by a woman who was going. Her son and Nicholas happened to be best friends.
We managed to pull off the largest women's conference that had ever been assembled in Jinja, Uganda; at the source of the Nile River. Our little band of adventurers is below. Nicholas is two from the left with Pastor Jimmy on his shoulder. It was an incredible time.
The Conference Succeeded
I spoke every day of the conference but Friday. There were about a thousand people on the grounds and well over six hundred women who came from districts all over. We fed them and housed them for four days. We also provided their transportation. It was so successful that news of the conference spread to the capital city two hours away in Kampala. I was also given an opportunity to speak to a group near Kampala of over four thousand people. It was the best experience and I also learned what not to do.
The most enjoyable time for me was when I gave every member of the team an opportunity to speak on Friday. I would have asked them to speak every day but most people that are new to public speaking are excited. They talk about how many things they have to share. You give them a microphone, and then they look like a balloon that's losing air. They are usually all preached out in five to ten minutes. I knew that and told them they could talk as long as they wanted to. I had back up information for when they were out of steam.
A Joyful Memory
I have a precious picture of Nicholas. He was praying for someone, his head back and his mouth open. His hands were on an African woman in front of him, and he was praying with all his heart. He would later come up to me, his face lit up with excitement, and tell me all about how it felt to pray for people. He said, "My hands were tingling, it was so awesome!" I could do nothing but beam with pride to see this young man, like a son to me, enjoying the feeling of praying for people. They all were buzzing with excitement.
An Unexpected Blessing
On the way back we went through London. It was there that Nicholas couldn't wait to call his girlfriend Pam. I remember him telling me that Pamela was pregnant. It wasn't long after that he and Pam were in our house trying to get us to take their unborn daughter. We told them that they would have to raise her. To tell you the truth I thought hard about saying yes. I would have gladly taken her for Nicholas. He came to work with me in the ministry not long after. I enjoyed every minute of him and loved him as a son. I wish I could have paid him. If I had he would have stayed and perhaps things would have been different for us.
A Dark Dream
I had a dream and it was full of dark imagery. I recall a black horse with wings and a date, January 14. The dream was so profound that I told multiple people at my church. When dreams happen like that to me, I communicate them because they impact me deeply. I wasn't sure what it meant but my world was about to flip upside down.
I Lost Everything
I remember the day it hit me while I was approaching my tenth wedding anniversary with my husband. We were pastoring a church in Saginaw, Michigan. I cried for two weeks before our anniversary but I didn't know why. We had a prayer room upstairs in the church. It was actually a closet just off of where I had my office. I went in there and spent time crying out to God. I kept asking God, "Why"? I heard an answer that day that came from the depths of my soul. It was, "release me".
I finally realized that I was asking God for the end of my marriage. Honestly, I loved my husband Dana. He was a genuinely good man. What I didn't know then that I know now was that Dana is gay. He touched me less than ten times during a marriage that lasted almost ten years. In the midst of being a pastor, I was desperately lonely. The only solace for me was my best friend Ashley who was ever at my side.
I left my prayer room and walked down to my husband's office. I sat down, sighed, and said, "I don't know how to say this but I feel like not being married to you anymore". As I looked at him, I expected a dialogue to discuss my feelings. We had our own church, our own family and it was our whole lives. What was about to happen would slam my life in a whole new direction. I had asked for it thought, didn't I?
Absolute Shock
"Okay, well, you need to get your stuff out. I will tell the congregation." The words were cold and distant, and they sent me into shock. Suddenly, I had to face the reality that I was not just letting go of my husband, but he was forcing me out of our family. When he stood in front of the congregation that Sunday, he cried and told them how I had left him. He didn't tell them about his non husbandry toward me for the last ten years. He didn't tell them about me catching him over and over again with gay pornography on his computer with young men that were barely eighteen. Dana never said any of that. Instead, the rumor mill started because I moved in with my best friend Ashley.
I didn't say a word to anyone. Even when Nicholas and his best friend came to Ashley's to talk to me. They were looking for some "biblical reason" why I "could" leave my husband. The words came out, "All I can think of is maybe adultery". I didn't refute it. I had felt like Dana had been cheating on me with pornography since before we were married. They left without answers, but either they came up with something on their own, or Dana helped them out a bit.
He liked Porn, but I towed the line
I had never crossed any boundaries with my best friend Ashley. I had never kissed her on the lips or touched her inappropriately, ever. Yet the rumor mill began to spin and Nicholas became angry at me for leaving. I had helped him through many arguments with Pam over the time we had been together, even through the birth of their second daughter. He was either in love with Pam, or he hated her; there didn't seem to be anything in between. Now, he became convinced that I was a lesbian, Ashley was my lover, and she was the reason I left my husband. He couldn't be further from the truth.
A Move to the Woods
It wasn't long after that I had an offer to move down to Texas and join a ministry there. They had about sixty acres in the woods, multiple cabins and a big warehouse that they had meetings in. It was a place of what you could call, "symbolic ministry". We would build elaborate sets and people would come for conferences. During that time, they would arrive on a Friday afternoon and stay until Sunday at lunch. We primarily had women's conferences but they grew into having men's conferences as well. They averaged around a hundred fifty to two hundred women. The men's conferences tended to be smaller but they enjoyed them just the same.
He Either Loved or Hated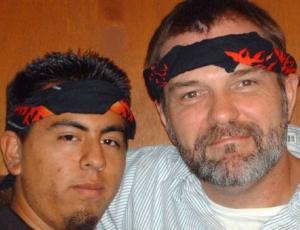 I remember him writing a letter to Pam while he was there. The letter was beautiful, full of love and adoration for her. It was one of the times that I saw his great capacity to love. This was before my divorce. He never came down again after I left Dana, and we were divorced. Nicholas started tormenting me on my cell phone. He texted and called at all hours of the night. One call was when he was drinking with some friends, and they decided to leave a message.
I felt like he Hated Me
"Hello, this is Lesbian cruise lines. We wanted to contact you to confirm your reservation with Ashley for an upcoming cruise..". It went on from there and became dark, twisted and cruel. For someone who was still trying to serve God to my utmost, it hurt my heart deeply. I was also angry. I had always been faithful to Dana and had never looked at porn. My heart had always remained faithful to him and now the whole congregation had turned against me. I imagined him standing in that pulpit on Sunday, lying through his teeth and drumming up sympathy for support. I had to forgive him over and over. It was the fact that Nicholas was so assaultive toward me that I had to change my phone number.
Hope for Nicholas and I
After some time passed, Nicholas softened toward me. After a while I was able to visit, and he had a conversation with me. He wasn't as soft as he had been before but it helped my heart to know that he may have forgiven me. I never told him what Dana had done to me but it didn't matter. I had never been a person who would play dirty and I wasn't about to start. We parted amicably and I went to Texas.
From Sunny Texas to a Rainy Washington State
My stay in Texas didn't last a long time. My sister invited me up to Washington. She was going to have surgery and I would visit for a few months. I had no idea where I would be going from there. Ashley was now in Texas and moving on with her life. She was leading worship at a church, and they were actively trying to find her a husband. Time had passed, and we rolled over into a new year. I was in Washington and my daughter-in-law visited. We were enjoying our time. We went to Mount Rainier and laughed and played in the snow. It was a good, long day.
Rainy Days
In the morning, I was in the kitchen at the table and Kiki, my daughter-in-law, was still sleeping. The phone rang and I could hear screaming from the other room. In that instant, the dream I had well over a year previous came back to me. Today was January 14th and Pamela was on the phone screaming. "He's dead, he's dead, he's dead!" She was screaming, and I immediately knew that Nicholas was dead.
He had been driving on the snowy Michigan roads and the truck slid into one of those cement dividers. I think it rolled and Nicholas did not have a seat belt on. He didn't survive the accident. I was again in shock. My heart longed for more time with him and it was now gone. I wasn't able to attend his funeral or pay my respects. Everyone back there thought I was a traitor. I had to grieve outside of the family that I had helped bring together. I couldn't say goodbye.
A Good God
I believe with all my heart that Nicholas is an eternal being and so is Kyle, his best friend. They are gathered now along with all those that I've known and loved who have slipped past the curtain on the stage of life. The older I grow, the more fond I become of the notion of a reunion with the saints. I no longer believe that some make it and some don't. I have come to believe in a God of love who is so incredibly powerful he saved us all before the foundations of the world. We will all make it in the end and that speaks to a greater love than any of us can imagine, but we should.
I will see you and Kyle so very soon Nicholas.
Available publications by PK Langley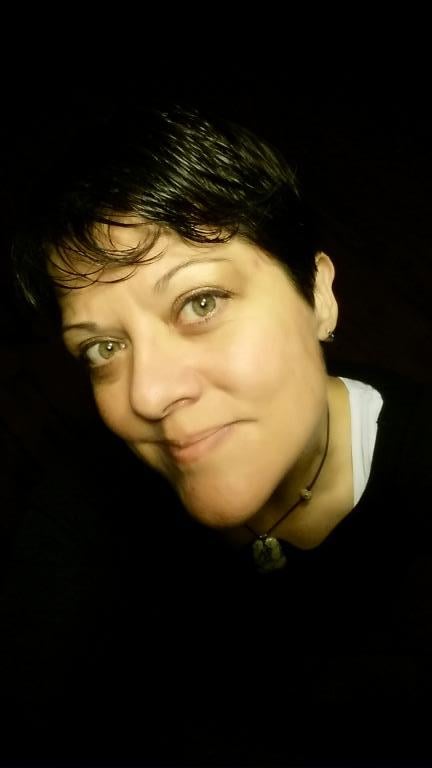 PK's Fine Art Store where you can find many of the Frustrated Grace Prints.
KINDLE E-BOOKS
PK writes short stories about life. They are in the form of ebooks for $1.37 each. Get them here.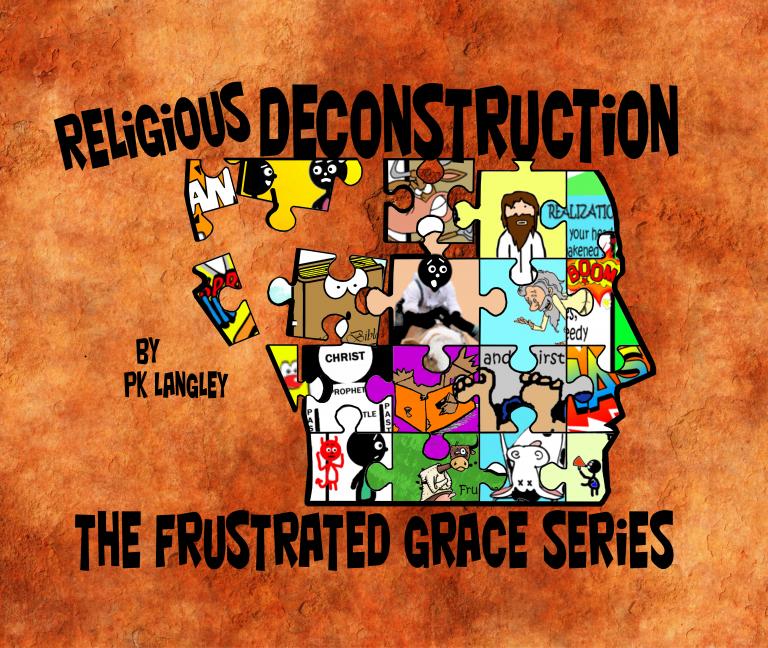 PAPERBACK BOOKS
Religious Deconstruction, The Frustrated Grace Series is now available, with over two hundred comic images on Amazon. You can get a preview of every single one here.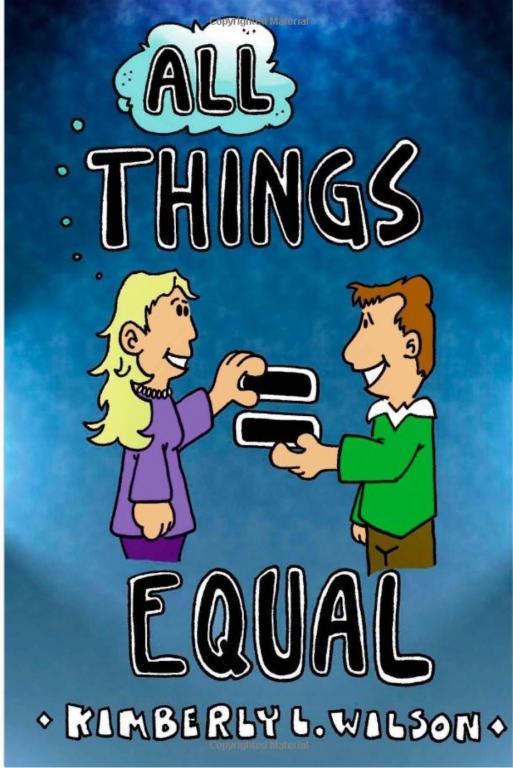 All Things Equal, is an exposition for women and how God
sees them from a very "biblical" point of view. It was what I needed in my first push toward deconstruction. If you are still in a church, and a woman, this is a great book to start. Get it here.
Deconstruction tools
LangleyTown has a specific page for materials that will help you with your deconstruction. Find them here.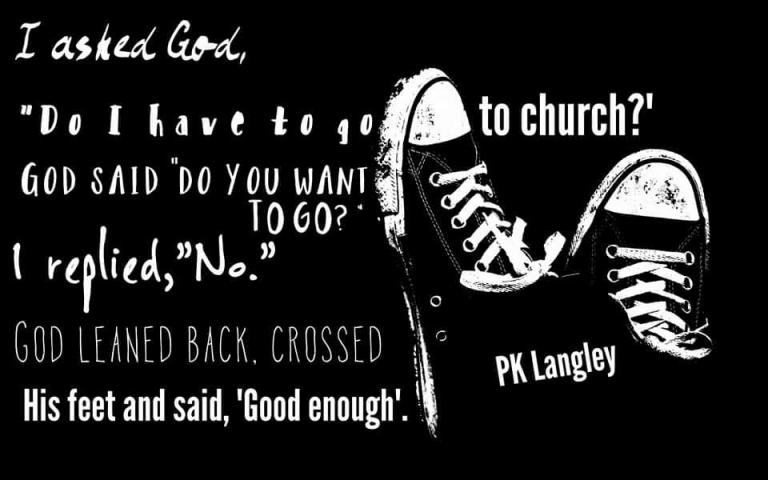 PK Langley's most Popular Blog Posts!
I Quit Church And I'm Happy About It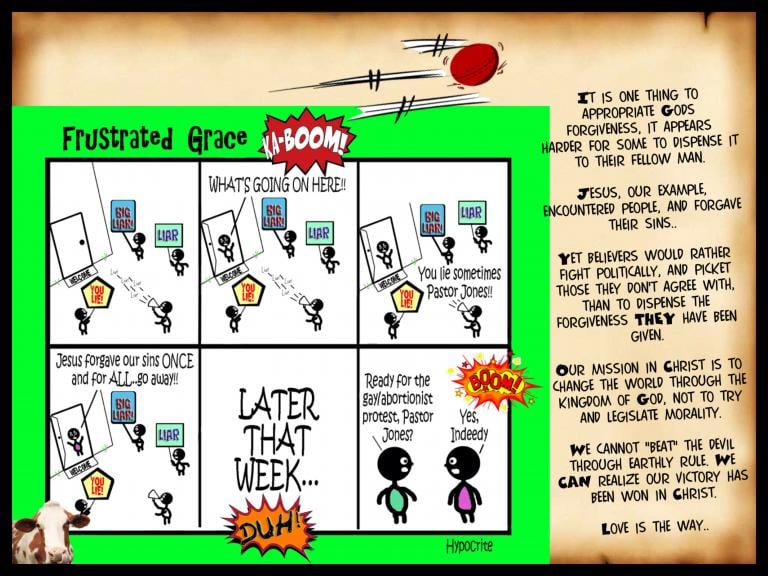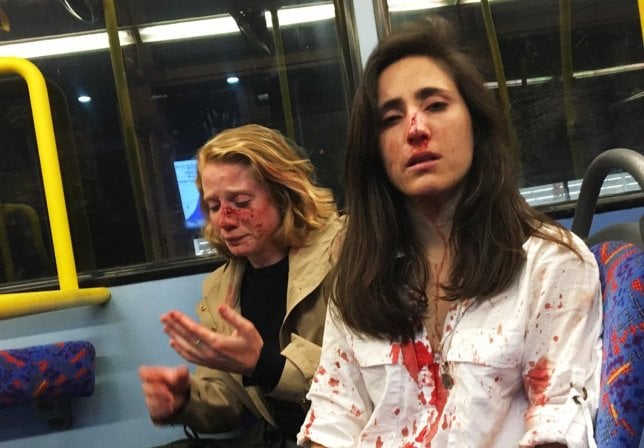 Straight Pride?
Read, "When the Good News Goes Bad" by clicking here.
Social Connections
You can find me on Facebook at "PK Langley"
Thank you for stopping by, I'd love to hear your comments!