Religious Legalism
Plenty of volley's fly back and forth across the religious legalistic net. Debate rages on for who is right, and who is wrong according to their religious stance. People picket abortion clinics and gay pride parades to point the proverbial "sinner finger" at those they believe are doing wrong. I want to propose to you that this isn't the good news that we should be sharing.
The policing of sin abounds for those who believe they are following the bible's moral code and represent "the right". In Romans, some read, "There is therefore NOW, no condemnation", without understanding what it means. The whole point of Jesus' message, that was then passed on to his disciples, and eventually filtered down to us, is that we are no longer under the law, but under grace.
For those who are struggling with what that phrase, "no condemnation" means. There are those who believe that they are nonpunishable, as long as they follow the tenets of their religion, they remain in right standing with God. Yet they seem tempted to condemn those who do not. This is true for multiple religions, not just our lovely Christianity.
Religious Degrees?
Some, blatantly ignore their own behavior to focus on others, somehow quantifying that their "minor" sins are dismissed by God but people who are gay are somehow God's major focus. How many people commit sin every day, but demand that others find a greater measure of comeuppance? We forget the verse, "All have sinned and fallen short of the glory of God". No one is perfect, not one. How dare we judge another mans servant. Those who think they are right seem to be quick to judge another wrong.
The Religious, "Sin No More".
We proclaim that Jesus is the only one who never sinned. In light of this, you would think that humanity would stop focusing so hard on what is sin and what isn't. No one is right or wrong, we all make mistakes. Jesus said, "Go and sin no more", but the fact that not one human being is capable of "not sinning anymore" has somehow escaped us. We embraced Jesus as a "savior from our sins" and then we want to fixate on something our faith tells us is a moot issue? How strange we humans are!
Religious, but for Grace.
When we do something wrong, humanity used to believe that this act separated us from God. When we believed in Jesus as our savior, we embraced the "good news" that Paul, along with the other disciples declared, "Neither height nor depth, nor anything else in all creation, will be able to separate us from the love of God". That "anything else" is primarily for us, the subject of sin. Being "under grace" is the understanding that behavior should no longer scare us with the threat of losing our eternal consciousness.
The Religious Don't See, "Sin is Law".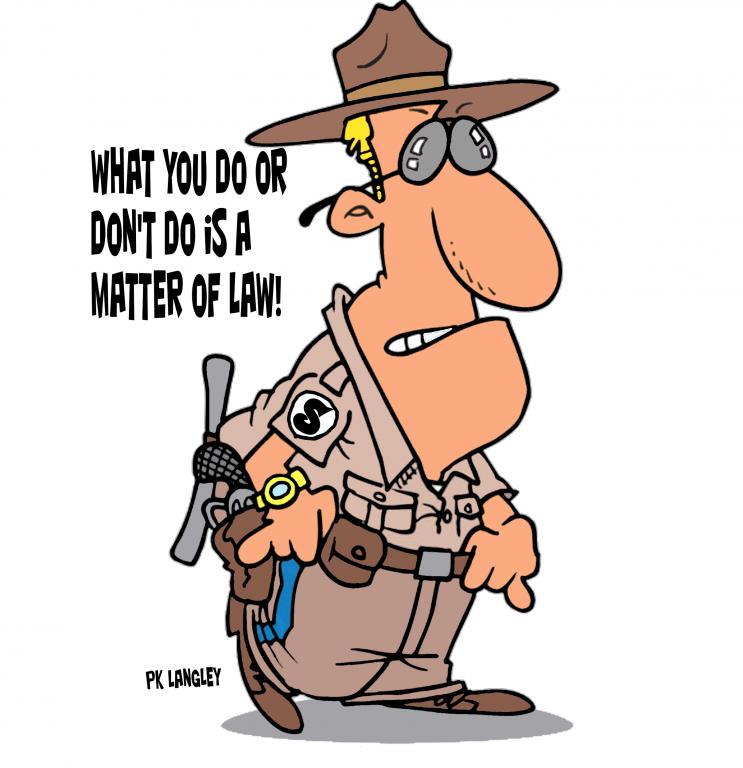 Those who lived "under law" in Old Testament times, believed that the acts they committed that did not please God incurred a debt that sacrifice restored. Law is penal, and we can look at local law enforcement to witness that when an act breaks the law, payment is expected. Under the law, once we have ticked all the command boxes, we can call ourselves, "righteousness by works". Men and women who felt they were "obeying" God's law, had a danger of becoming self-righteous. This was evident in the Jewish religious leadership. The temptation of pride strikes when we feel we are in good standing and "perfect", even if that perfection is obtained through sacrifice. That's where the church goer comes in.
The Religious Church and Sin
Today, the same works based righteousness is rampant in the church at large. Individuals who attend service regularly, pay tithes, or serve on the elder board, are doing things that they believe will please God. Seeing their sin as "cleansed by works/deeds", some are quick to condemn those outside of the church. There has been a movement in the last twenty years to teach people about the power of grace. Yet, people continue to attend services with no understanding of the implication of grace. By doing things to make God happy, we turn our backs on grace.
Sin is Not Counted Against Us!
If Christ truly paid for every sin I would ever commit in my entire life, before I was ever born, then my sins are finished. All of my sins were in the future two thousand years ago. Every thing that you could ever do wrong for your whole life is of no consequence to God. You cannot blow it, mess up or do something so bad God turns his back on you. God doesn't even consider sin because he does not see us separated for every behavior we commit that makes us feel guilty. So, why do we focus on behavior SO hard? Perhaps it is because religion has a purpose for sin.
Sin, for the Religious
The error of religion is to debate the fact that sin is a subject we need to even consider. Religion fears that people will run out and "sin their brains out" when they learn God no longer counts our sins against us. What if they do? If it's covered, what is it to you? It terrifies the religious to admit that our sins do not separate us from God. If you ease the guilt, religion begins to wither to relationship.
Tell a child that they cannot do something and watch what happens. Temptation is the result of telling someone that they cannot "do" something. Look at the story of Adam and Eve. God sets out a bountiful table for them and what is their singular focus? The forbidden fruit, like a hot stove that begs to be touched by the young mind when a parent says, "no". When you educate the child of the hazards of a hot stove, you empower them to make a rational decision. When one understands the consequence, they can decide for themselves what their action will be. This is empowerment, and initiates consistent relationship in a spirit led life.
We Are Free from Religious Law
Paul said, "All things are permissible but not everything is beneficial". He understood the power of grace and how much greater grace is, over works based righteousness. When we understand that, we stop policing ourselves of "sin" and start living a spirit led life. The gospel is really very good news. No longer do we have to assess our behavior and live in constant cycles of repentance. We understand that God is not in relationship with us according to what we do or don't do, but according to what Christ did. Christ set us free from the law of "SIN and DEATH".
There is a Rest from being Religious
When we "have believed", we "enter into rest". To know that nothing is counted against us should liberate us to relationship, not bootstrap us to a spree of reckless abandon to sin! This is the good news we should be sharing, not telling people what is okay to do and what is not. God is a good father, able to save to the uttermost!. The gospel is good news that we can believe and leave the worry of behavior behind.
Available publications by Kimberly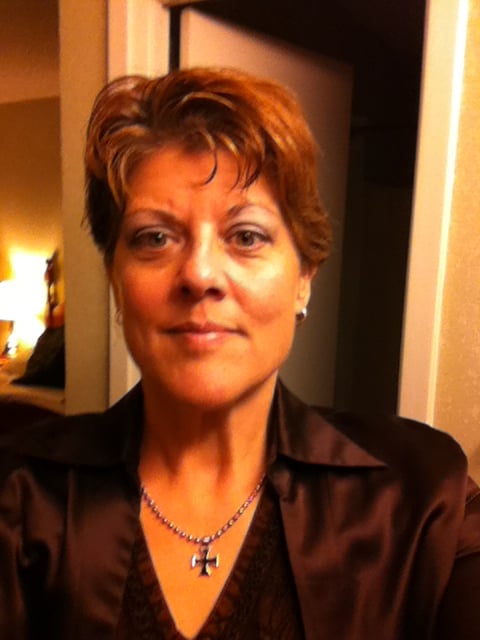 All Things Equal, an exposition for women and how God sees them from a very "biblical" point of view. It was what I needed in my first push toward deconstruction. If you are still in a church, this is a great book to start.
Deconstruction tools
Start your Deconstruction with The Naked Gospel.
Another great Deconstruction help is Pagan Christianity. It helps you see the roots of Christianity and how we got to where we are now.
I also enjoyed So You Don't want to Go to Church Anymore.
Mick Mooney is a great resource for help along the road.
Available short stories by PK Langley on Kindle for $1.37 each:
Not My Daughter!: A story too good to tell.
Diedre: What I learned when my son chose a girl.
For Nicholas: An encounter with the parents of Nicholas that changed perceptions.
The Needs Of The One: An encounter with a schizophrenic man that touched my soul.
Farm Lessons: Life and Death lessons are every day on a farm.
Check out, Paradigm shift to Spirit led living.
Read, "When the Good News Goes Bad" by clicking here.
You can find me on Facebook at "PK Langley"
Thank you for stopping by, I'd love to hear your comments!
Available publications by PK Langley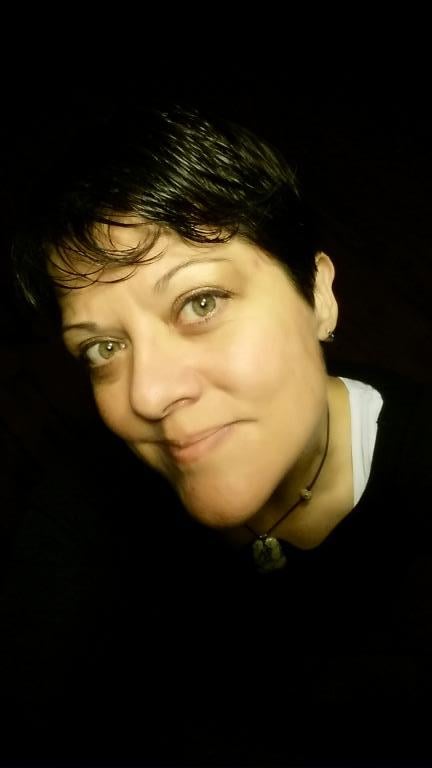 PK's Fine Art Store where you can find many of the Frustrated Grace Prints.
KINDLE E-BOOKS
PK writes short stories about life. They are in the form of ebooks for $1.37 each. Get them here.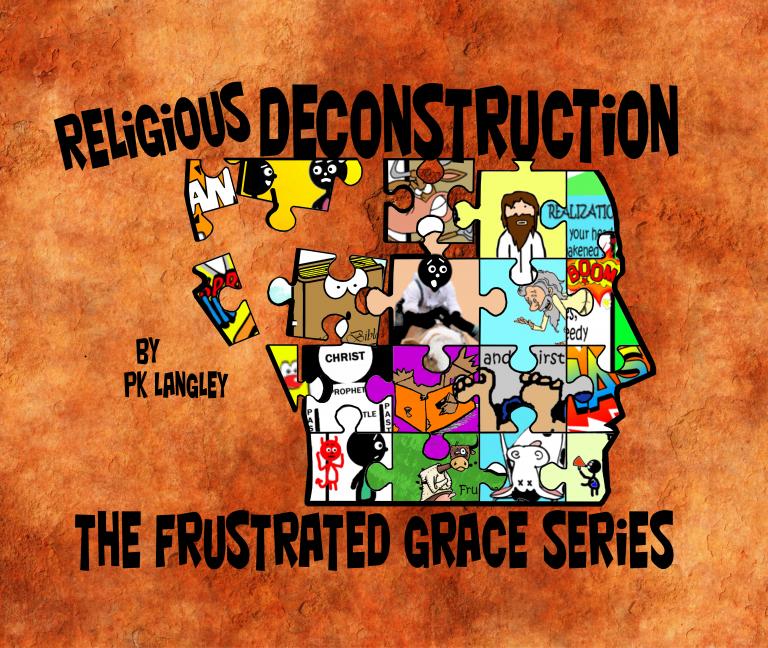 PAPERBACK BOOKS
Religious Deconstruction, The Frustrated Grace Series is now available, with over two hundred comic images on Amazon. You can get a preview of every single one here.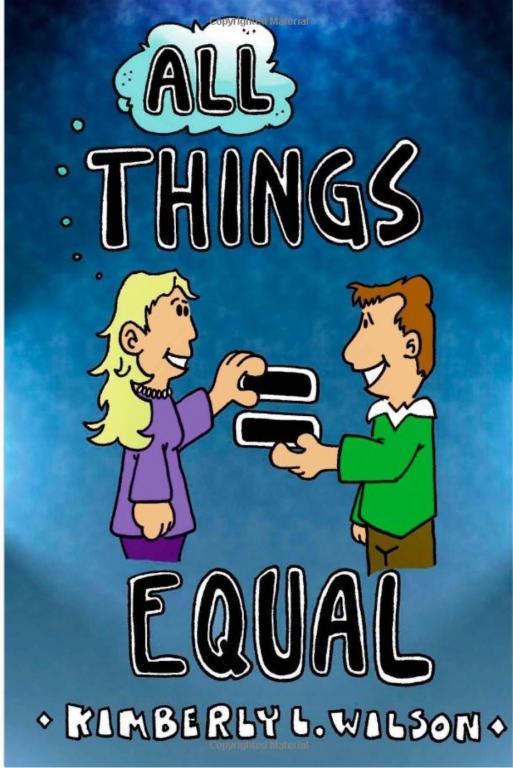 All Things Equal, is an exposition for women and how God
sees them from a very "biblical" point of view. It was what I needed in my first push toward deconstruction. If you are still in a church, and a woman, this is a great book to start. Get it here.
Deconstruction tools
LangleyTown has a specific page for materials that will help you with your deconstruction. Find them here.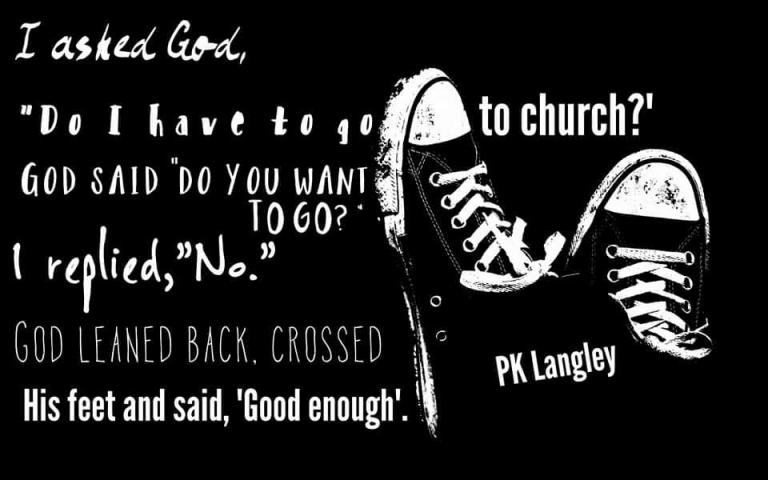 PK Langley's most Popular Blog Posts!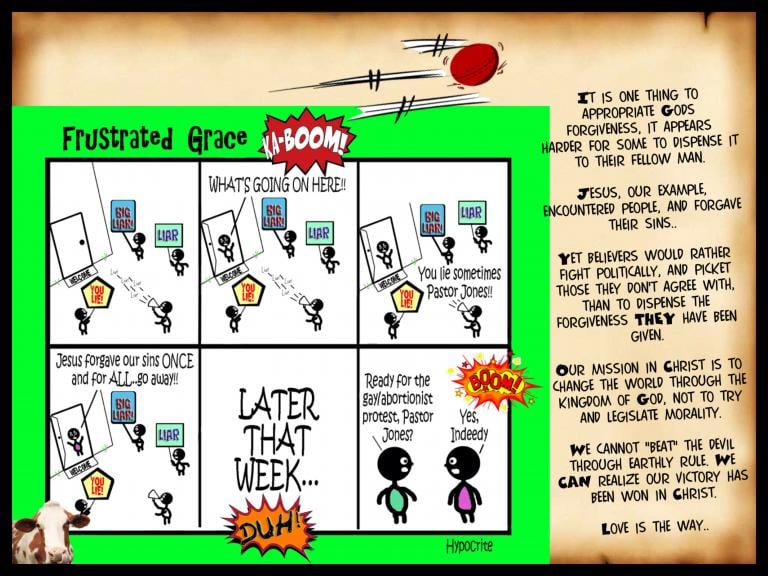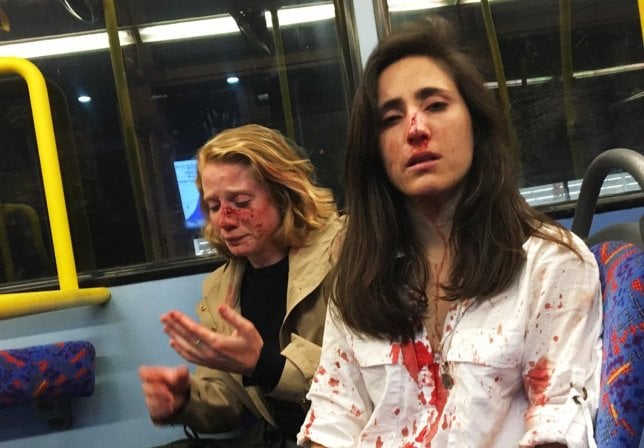 Straight Pride?
Read, "When the Good News Goes Bad" by clicking here.
Social Connections
You can find me on Facebook at "PK Langley"
Thank you for stopping by, I'd love to hear your comments!